Tunisian Ports Ban Anti-Immigration Group's Ship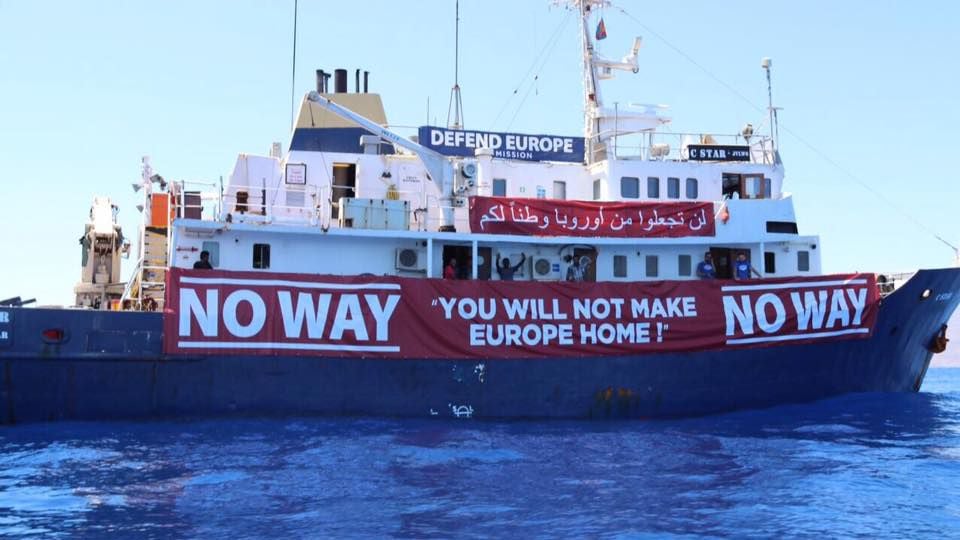 Tunisian maritime authorities have ordered seaports to refuse entry to the C Star, a former floating armory chartered by Defend Europe, a group of young anti-immigration activists.
As of Monday afternoon, C Star was stopped off Sharqi Island, Tunisia, over 100 nm from her declared area of operations off the coast of Libya. Her AIS track and news reports suggest that she has been near her current position since at least Sunday evening.
Port officials and fishermen in the port of Zarzis told AFP that they would not allow "racists" to enter the port, echoing a criticism of the right-wing "identitarian" group leveled by human rights NGOs. To emphasize the point, a group of fishermen in Zarzis strung a banner reading "No Racists" along the side of their vessel. The fishermen's leader expressed solidarity with African migrants.
It would not be C Star's first trouble in port. She was briefly detained at Suez, then again at Famagusta, Cyprus on charges of human smuggling. Her crew were released for lack of evidence, and she proceeded towards Catania, Sicily to pick up five Defend Europe activists. After learning of strong opposition from port city leadership and a large planned protest in Catania, the Defend Europe activists quietly flew to Crete, where they boarded the C Star offshore.
Reports indicate that C Star's supplies are running low. Fuel may not be among the shortages: Defend Europe's leader suggested that C Star took on bunkers at Famagusta prior to her departure July 27. Assuming she filled her tanks and consumed fuel at the rate listed on her ship's particulars, she would have enough diesel remaining for at least two more weeks on station.
Defend Europe says that it wants the EU to implement "an Australian 'No Way' Policy to save Europe and to save lives," referring to an Australian government PR campaign dating to 2014. Australia diverts refugees arriving by boat to processing camps for detention and deportation.