Trump Administration Considers Naval Bases for Coal, LNG Terminals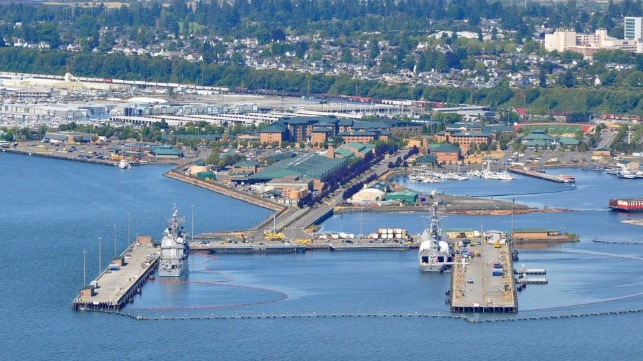 U.S. Secretary of the Interior Ryan Zinke has expressed an interest in using military or government properties on the West Coast to handle U.S. coal or natural gas exports, thereby circumventing local opposition to fossil fuel projects.
"I respect the state of Washington and Oregon and California," Secretary Zinke told the AP in an interview. "But also, it's in our interest for national security and our allies to make sure that they have access to affordable energy commodities."
Zinke suggested that the long-abandoned base at Adak - a remote island in the Aleutian chain - could be an option as an LNG export hub. He did not name any other specific sites, but suggested the possibility of using "some of our naval facilities, some of our federal facilities" on the West Coast.
Opponents of fossil fuel exports have succeeded in halting coal and LNG terminals in all three West Coast states, creating an effective blockade between inland energy producers and the Pacific Ocean. Coal mining firms from Wyoming's Powder River Basin - which have been hit hard by the popularity of cheap natural gas - have used Gulf Coast terminals as an alternative for export shipments, but access to the West Coast would offer them the lowest cost of transportation to the growing Chinese market.
To gain access to the Pacific, these coal producers are fighting back. Coal terminal developer Lighthouse Resources is currently suing the state of Washington in federal court for refusing a key water quality permit, which effectively ended Lighthouse's plan for a facility in Longview. The firm alleges that the permit decision violated the Constitution's Commerce Clause by preventing interstate trade in coal. Washington, backed by a coalition of environmental groups, is contesting the claim, along with a parallel suit in state court.
While Secretary Zinke's proposal for military export terminals could give coal or LNG producers an alternative route to the sea, the approach would not necessarily exempt their activities from a West Coast state's permitting process. In general, activities on federal military bases are still subject to state-level environmental law.
Zinke's plan was met with skepticism in Olympia, where Washington Governor Jay Inslee raised questions about its viability. "The men and women who serve at our military bases are there to keep our country safe, not to service an export facility for private fossil fuel companies," Inslee said. "This reckless, harebrained proposal undermines national security instead of increasing it, and it undermines states' rights to enforce necessary health, safety and environmental protections in their communities."