Tribunal Rules Against China's South China Sea Claims
"A devastating legal blow to China's jurisdictional claims"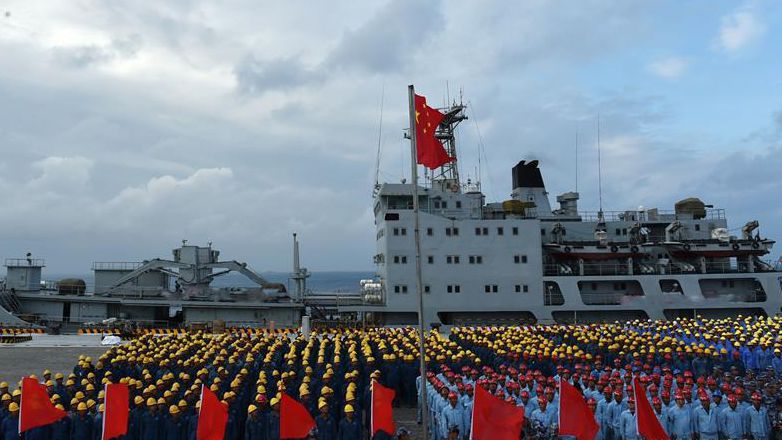 An arbitration court ruled on Tuesday that China has no historic title over the waters of the South China Sea and has breached the Philippines' economic rights with its actions, infuriating Beijing.
The Tribunal of the Permanent Court of Arbitration in the Hague ruled that "there was no legal basis for China to claim historic rights to resources within the sea areas falling within it 'nine-dash line'" - an area encompassing the vast majority of the South China Sea.
Further, it ruled that China's island developments in the Spratly chain were unlawful, violated the economic rights of the Philippines and did not form the basis for a claim to an exclusive economic zone. Finding no valid competing claim, the court ruled that certain areas in the chain were within the Philippines' EEZ, bypassing the question of demarcation between states.
The court added that China's island-building activities had caused severe environmental harm to reefs in the chain.
In a statement, lead counsel for the Philippines Paul Reichler said that "the tribunal's ruling not only benefits the Philippines, it also benefits other states bordering the South China Sea like Indonesia, Malaysia and Vietnam . . . If China's nine-dash line is invalid as to the Philippines, it is equally invalid to those states and, indeed, the rest of the international community."
"This award represents a devastating legal blow to China's jurisdictional claims in the South China Sea," Ian Storey, of Singapore's ISEAS Yusof Ishak Institute, told Reuters. "China will respond with fury, certainly in terms of rhetoric and possibly through more aggressive actions at sea."
Newly elected Philippine president Rodrigo Duterte called a cabinet meeting to discuss the tribunal's ruling, and did not immediately issue a statement on his administration's views. Presidential Communications Secretary Martin Andanar told media that the nation's solicitor general would look closely at the ruling first. "We shall wait for SolGen's interpretation of the ruling. The SolGen shall provide the President a synopsis of the ruling tomorrow morning and a complete and thorough interpretation in 5 days," he said.
Duterte has moved to improve strained ties with China and has recently suggested that he is open to negotiations over competing claims.
China reiterated its plan to ignore the ruling, and said its armed forces would defend its sovereignty and maritime interests. Its state-run media also announced that acivilian aircraft had tested two new airports in the Spratly chain, and its Defence Ministry announced the commissioning of a new destroyer in the province with responsibility for the South China Sea.
The United States said the ruling should be treated as final and binding. "We certainly would urge all parties not to use this as an opportunity to engage in escalatory or provocative action," White House spokesman Josh Earnest told reporters. U.S. officials have warned that China may respond to the ruling by declaring an air defense identification zone, as it did in the East China Sea in 2013, or by stepping up its building and fortification of artificial islands.
Oil prices jumped following the ruling. Brent crude futures were up over $1, or more than 2 percent, to $47.60 per barrel at midday.
Some shipping industry representatives expressed uncertainty and stressed that continued freedom of navigation was paramount. "It is vital that merchant ships are allowed to go about their lawful business on the world's oceans without diversion or delay. We will of course be monitoring for any interference in the coming weeks," said Peter Hinchliffe, secretary general of the International Chamber of Shipping.
But not all in the maritime community were convinced that a continued dispute and an ever-larger naval presence in the South China Sea would be a bad thing for commerce.
"While it is understandable that the international community is nervous that today's ruling could result in an increase in aggressive behaviour by navies and coastguards in the South China Sea, it is quite possible that through enhanced naval and coastguard presence in the area, the area could, in time, become safer for merchant shipping," said RAdm. Anthony Rix, business development and board advisor at maritime security firm MAST.
He noted that southeast Asia is the world's most serious piracy hotspot – as well illustrated by recent kidnappings. "The requirement for good navies and coastguards in the region has long been understood; countries like Indonesia now place a much higher priority on maritime affairs. This ruling does not provide any reason to change this approach and might actually encourage faster naval development."