Trawler Goes Aground in Norway's High Arctic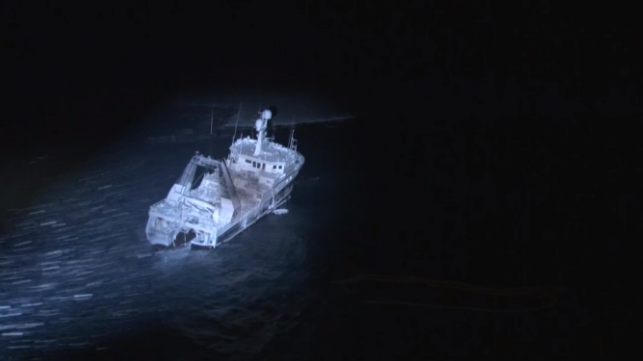 The Norwegian Coast Guard is moving quickly to respond to the trawler Northguider, which grounded Friday in a narrow strait between Spitsbergen and Nordaustlandet, well above the Arctic Circle.
At 1320 hours on Friday, the Main Rescue Center (HRS) for northern Norway received a distress message from the Northguider. The trawler had gone aground in the Hinlopen Strait (Hinlopenstretet). Her crew reported that she had taken on water in the engine room and had a heavy list.
Both of the government of Svalbard's two rescue helicopters were immediately deployed to the scene. The first rescued 10 of the Northguider's crewmembers at 1500 hours, and the second helicopter lifted off the remaining four crewmembers at 1600.
Conditions on scene were severe: the location of the grounding is at about 80 degrees North latitude, well above the Arctic Circle, and the area is in the middle of its long polar night. The temperature was about -10 degrees F (-23 C), with snow and wind.
"It is a rescue operation . . . in a place that is far from people, there are difficult communications and it is demanding weather in the area. There have been no vessels nearby to rely on. We have been dependent on the helicopter resources on the spot," said Deputy Police Minister Nordland Heidi Kløkstad, speaking to NRK.
With the crew safe, the response effort has turned to salvage. The Northguider has about 330 tonnes of diesel on board, and the site of the grounding is in a sensitive protected area. Winter ice is slowly encroaching on the strait, limiting the amount of time available for a response.
On Sunday evening, the Norwegian Coast Guard vessel Svalbard will set sail from Sortland to Svalbard on a mission to board the Northguider and conduct a damage assessment. The Svalbard's crew will also attempt to remove the diesel from the Northguider's tanks, and if it appears possible, they will also try to refloat her.
The cause of the grounding is under investigation.