Training Ship Kennedy Returns to Mass Maritime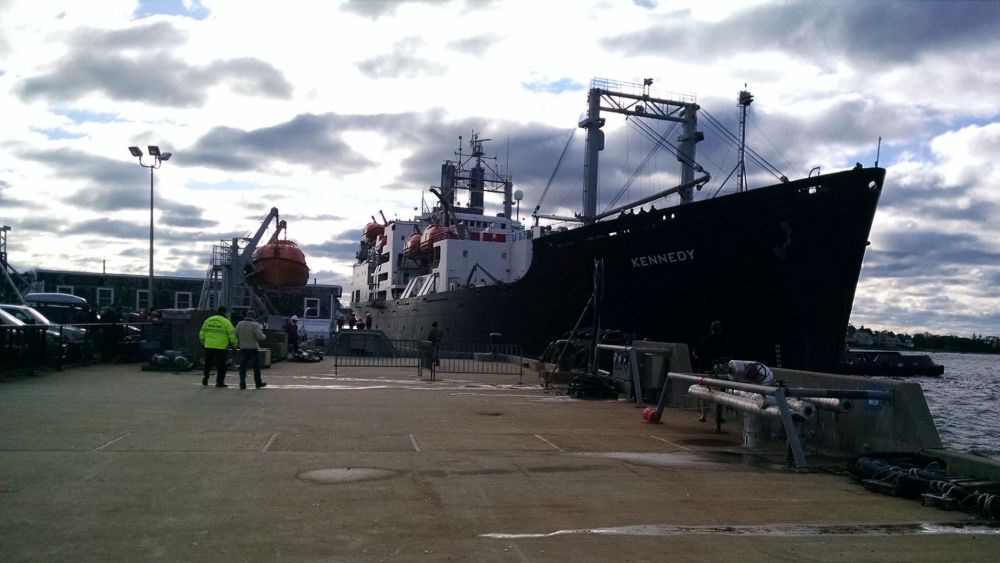 On November 17, the training ship TS Kennedy returned to Massachusetts Maritime Academy after a ten-week voyage in support of hurricane relief efforts in Houston, St. Thomas and Puerto Rico.
Kennedy normally serves the at-sea training mission of Mass Maritime's cadet program, but she is owned by the Maritime Administration (MARAD) and can be called up to assist with disaster relief when required. In early September, MARAD activated the Kennedy to support relief work in Houston in the wake of Hurricane Harvey. Kennedy made preparations and set sail on September 6, but shortly after she arrived in Texas, she was diverted to assist with the hurricane relief effort in the Caribbean.
Academy staff and civilian mariners hired through General Dynamics American Overseas Marine (AMSEA) crewed the vessel for the two and half month mission. While deployed, the Kennedy provided over 13,000 nights of lodging for relief workers and over 30,000 meals.
"It feels good to contribute, it's a safe place for somebody to go at night, good place to sleep, they can take a shower, they can do their laundry, have a good meal," said Capt. Mike Campbell, speaking to Boston's CBS affiliate.
Her return is very welcome. "She is the cornerstone of our entire campus," said Elizabeth Stevenson, VP of enrollment and external affairs for Mass Maritime, speaking to local media. "When folks come down Academy Drive, they expect to see that 540-foot ship docked at the end of the pier."
The ship will be formally turned over to academy on Tuesday. After a Thanksgiving break, the Kennedy will be making preparation for the 2018 sea term in the Caribbean. She departs January 8 for a trip to Barbados, Montego Bay, Cartagena and Tampa, with a brief stop in Haiti to deliver aid.
MARAD also mobilized the SUNY Maritime College training ship Empire State VI and the Texas Maritime College training ship General Rudder to support the hurricane relief mission. The Empire State has since returned to her home port in the Bronx.