TOTE Expands Into Hawaii Trade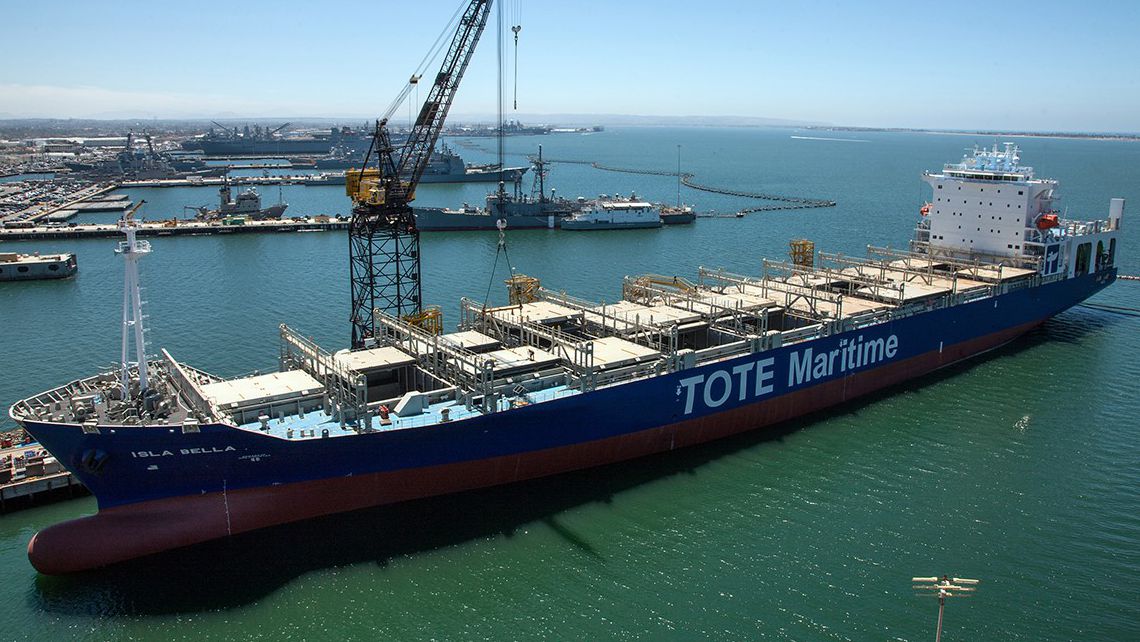 TOTE Maritime increased its investment in the U.S. Jones Act trade on Friday, announcing an order for four new containerships from Philly Shipyard. The ships will be used to compete with Matson and Pasha in the Hawaii trade.
"Philly Shipyard . . . fully supports the efforts to introduce new vessels into the Hawai'i containership trade to replace aged ships in time to meet new environmental regulations," said Steinar Nerbovik, Philly's president & CEO, in a statement Friday.
In addition to the newbuild order, TOTE has begun talks to secure container terminal space in Honolulu. The firm said that timing is critical to get the service running in early 2020, when new environmental regulations will take effect.
TOTE has operated vessels from the U.S. mainland to Alaska and Puerto Rico for four decades, but this would be its first venture to Hawaii. It has invested significantly in newbuilding in recent years, spending hundreds of millions for two LNG-fueled container carriers to serve Puerto Rico. The vessels replaced the lost ro/con El Faro and her sister ship El Yunque.
The holding company that owns TOTE – Saltchuk – also owns tug firms Foss Maritime, Young Brothers, Cook Inlet Tug & Barge and Amnav, plus a variety of logistics companies. Foss and Young Brothers have a well-established presence in the Hawaiian market.
More competition in Jones Act trade
The expansion will put TOTE in competition with Matson Lines, an ocean carrier with services connecting Hawaii, the U.S. mainland and the Pacific Islands. Competitor Pasha Hawaii also operates a container and car-carrier service from California to Hawaii.
All three companies are adding new tonnage to comply with environmental regulations. Matson will take delivery of two 3,600 TEU container ships in 2019-2019, plus an additional two 3,500 TEU ro/cons from NASSCO in 2019-2020. Pasha has ordered two LNG-fueled, 2,500 TEU container ships from Keppel AmFELS in Brownsville, Texas.