Three of Edda Wind's SOV Newbuilds Delayed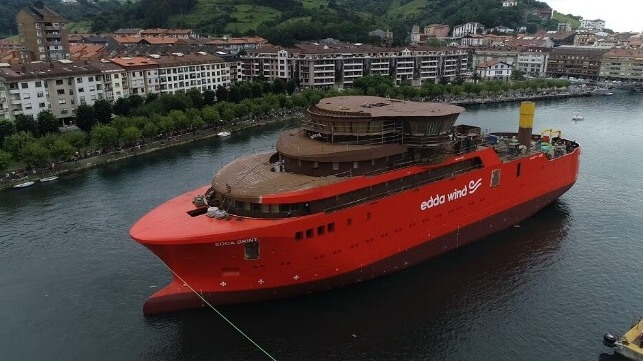 Offshore wind service vessel company Edda Wind says that two of its newbuilds vessels that were scheduled to commence operations in January will not enter service until March due to delays in the installation of key systems in Denmark.
The Norwegian firm announced in regulatory filing that Edda Breeze and Edda Brint have both been delivered from their respective yards in Spain, and they are currently in the process of receiving their gangway systems in Denmark. Based on progress so far and the scope of the remaining work, the company estimates that there will be a delay in completing the installation and commissioning of the gangways.
"Both Edda Breeze and Edda Brint are now expected to commence their respective long-term charter contracts during March 2023," said the company.
Delivery of service operation vessel (SOV) Edda Goelo - which is under construction at the Astilleros Balenciaga shipyard in Spain - will also be delayed, meaning the vessel will be ready for operations in the third quarter rather than mid-year.
Edda Wind is working to minimize the delays, since the vessels have already been contracted for long term charters.
The SOV Edda Brint has secured a 15-year contract with Vestas for the Seagreen Offshore wind farm in Scotland. The 60-person SOV has been prepared for zero-emission operations with liquid organic hydrogen storage and H2 propulsion. This means that in a few years, the SOV will be capable of supporting the construction and commissioning of wind farms without generating carbon emissions.
The CSOV Edda Breeze has secured a 10-year contract with Ocean Breeze for the Bard Offshore 1 wind farm in Germany. The hydrogen-ready, 300-foot vessel can accommodate up to 120 persons onboard.
The SOV Edda Goelo is expected to commence a five-year contract with Siemens Gamesa on the Saint Brieuc wind farm off the coast of France next year. Goelo will not be seen in the company's usual orange and yellow corporate colors but will be painted blue and white, Siemens Gamesa's colors. The SOV can accommodate up to 60 personnel.
Edda Wind is the world's only pure-play offshore wind vessel company. Currently Edda Wind owns and operates two purpose-built offshore wind SOVs, operates one chartered frontrunner, and has eight dedicated offshore wind vessels under construction.
With European governments focusing on energy independence following the Russian invasion of Ukraine and the spike in energy costs, the offshore wind industry will continue to grow rapidly, Edda Wind believes. Worldwide, sanctioned projects have more than doubled in the past 12 months from 91 GW to 185 GW. Forecasts suggest that 2,000 GW of installed capacity is required to keep the 1.5 degrees C goal within reach.