Three Mariners Washed from SA Navy Submarine Die During Resupply Exercise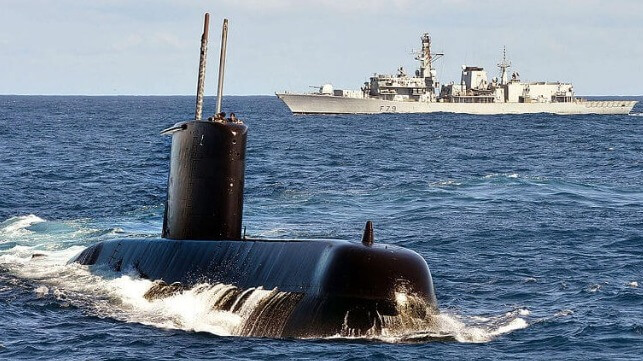 An attempt by the South African Navy to conduct a vertical transfer (VERTREP) exercise during rough weather turned tragic after high waves swept seven crewmembers into the sea, causing the death of three marines. Four others were rescued and being treated in a hospital along with a rescue diver.
The South African Department of Defence (DoD) confirmed the incident involving the navy's submarine SAS Manthatisi occurred off Kommetjie in the Western Cape region on Wednesday afternoon, September 20. While the submarine was sailing to Table Bay from Simon's Town for the Navy Festival, the navy scheduled a VERTREP resupply exercise using an SA Air Force Maritime Lynx helicopter.
The mission turned tragic after high waves swept seven crewmembers from the deck, forcing the navy to immediately cancel the VERTREP and activate a rescue operation. The National Sea Rescue Institute (NSRI) received a report of a suspected incident at around 1500. Shortly after that, the South African naval vessels offshore Kommetjie sounded a MOB alert, prompting a response from other NSRI stations along the Western Cape and several EMS providers from Cape Town.
"The VERTREP evolution was immediately cancelled and efforts were launched to recover the members. A surface swimmer was dispatched from the helicopter to assist with the rescue. Unfortunately, the recovery operation was negatively affected by rough sea conditions," said the DoD in a statement.
Two NSRI Kommetjie rescue crafts, Spirit of the Vines and IL Batello, arrived at the scene that was one nautical mile off-shore of Slangkop Lighthouse. They led the recovery of the three dead mariners and the rescue of the four injured crewmembers.
The SA Navy proceeded to carry out the transfer of cargo between ships using helicopters, despite a weather alert issued by the South African Weather Service warning of stormy seas in the Western Cape region and damaging waves near Cape Town, Cape Agulhas, and Hermanus.
"Difficulty in navigation at sea for small vessels and watercraft (for example, kayaks) is expected. Localized disruption of small harbours and/or ports could also occur," warned one of the alerts.
The submarine is one of three in the South African Heroine-class. Built by Howaldtswerke-Deutsche Werft (HDW) and Thyssen Nordseewerke in Germany, the vessel is just over 200 feet in length with a reported crew of 30. She was commissioned in 2005 and was set to participate in the SA Navy Festival that was scheduled to take place in Cape Town from September 23 to 25.
The SA Navy and maritime authorities have opened investigations into the incident.