Three Former Austal USA Execs Indicted on Accounting Fraud Charges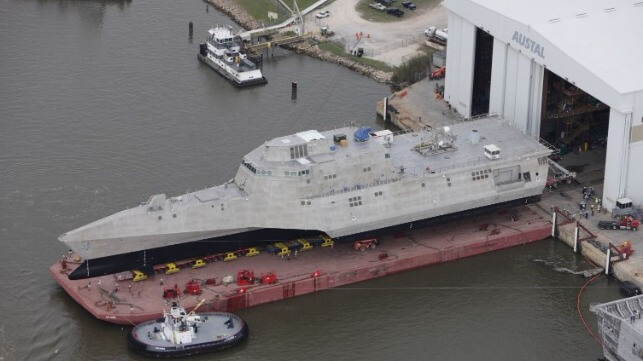 The U.S. Securities and Exchange Commission has indicted three former executives of naval shipbuilder Austal USA on charges of accounting fraud. One was a current employee until the charges were announced on Friday, according to the Australian Financial Review.
The accused include the former director of Austal's Independence-class Littoral Combat Ship (LCS) program, William Adams; former president Craig Perciavalle; and director of financial analysis Joseph Runkel.
The three men stand accused of manipulating an accounting metric known as "estimate at completion" (EAC) for multiple LCS ships that Austal USA was building in 2013-2016. According to charging documents, reducing this metric inflated the reported earnings (EBIT) of Austal USA's publicly-listed Australian parent company, Austal Ltd.
The SEC contends that the three executives did this in order to "meet or exceed analyst consensus estimates for EBIT," mislead Austal Ltd.'s shareholders about the U.S. unit's financial performance, and thereby boost or maintain the value of Austal's stock. All three men received performance bonuses tied directly to EBIT numbers.
In mid-2016, at the end of the period of alleged fraud, Austal USA admitted that it had underestimated the cost needed to build the LCS early in the program, forcing it to write down the value of its work in progress. This led to an unexpected full-year loss of $120 million, down from a profit of $86 million the year before.
In February 2021, Austal USA announced that the SEC and Department of Justice had launched an investigation into the 2016 write-down. Perciavalle resigned shortly after, then took up a new role as VP and general manager at a competing U.S. shipyard.
Perciavalle, Adams, and Runkel have each been charged with five counts of wire fraud, two counts of wire fraud affecting a financial institution, and two related conspiracy charges in connection with the accounting scandal. If they are convicted, the charges carry maximum penalties of 20-30 years per count.
Previous investigation found fault at home office
Australian authorities have scrutinized parent company Austal Ltd.'s shareholder disclosures about the costs of the LCS contract during the same time period. Austal USA's naval shipbuilding contracts provided about 80 percent of Austal Ltd.'s total revenue, and the performance of the American subsidiary was key for reportable financial numbers.
In June 2021, Australian corporate regulator ASIC launched enforcement proceedings against Austal Ltd. and its former CEO, David Singleton, for allegedly failing to disclose LCS-related losses to investors for several weeks in mid-2016. In October 2022, Australia's Federal Court ruled that the company had violated continuous public disclosure laws in connection with the 2016 loss, and ordered the firm to pay a penalty of AUD$650,000. The court found that Singleton was knowingly involved and ordered him to pay a fine of AUD$50,000.
"Investors who bought shares in the period of misconduct did not know the unfavorable information about Austal's FY2016 earnings. This information was likely to have informed their decision to buy or sell Austal shares during the relevant period," said ASIC Deputy Chair Sarah Court last October.