The Race to Build the Perfect Island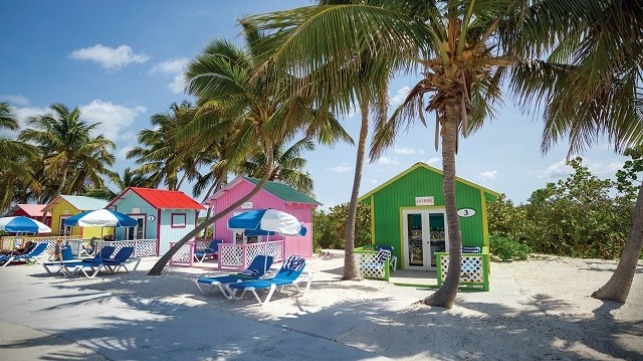 Challenged to find new ports of call and provide unique passenger experiences, the cruise lines are increasingly working to create their own private destinations. Once limited to beach parties, the industry is now moving to create elaborate resort-style destinations.
"They are purpose built little slices of heaven that give you everything you want in a perfect vacation day," explains travel advisor Kerry Mooneyham. Her clients enjoy the convenience of not having to "worry about hunting for a clean restroom or where to eat, nor the chance of getting hassled by vendors on the beach."
Recognizing the popularity of these ports, Royal Caribbean International recently announced a major new initiative called the Perfect Day Island Collection, which will further increase the industry's competition for the best private destinations. Starting with a major upgrade at Coco Cay, a private island in the Bahamas that Royal Caribbean acquired nearly 30 years ago, the line is planning the introduction of "a series of unrivaled private island destinations around the world," including locations in Asia, Australia, and the Caribbean.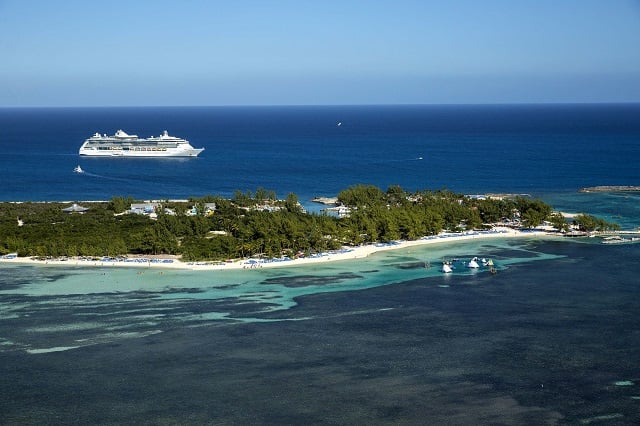 Coco Cay
Royal Caribbean will be adding a dock at Coco Cay able to accommodate its biggest cruise ships and creating new attractions. Passengers will be greeted with live music and a water geyser and new activities ranging from a waterpark to a waterslide, a zip line, wave pool, freshwater swimming pool, a bar, a grill restaurant, a shipwreck area for the children to explore and a helium balloon rising 450 feet into the air.
These new experiences will be very different from what the first cruise passengers experienced when Norwegian Cruise Line (NCL) launched the private island concept. In 1977, NCL introduced the out island with cruises aboard its new 14,000 gross ton Sunward II. "It was a Robinson Crusoe-style uninhabited island experience where passengers saw the Caribbean in its purest state," recalls Bruce Nierenberg then a marketing executive at NCL. The introduction had its problems – they were using the ship's lifeboats to get passengers ashore and on a test cruise the boats ran aground and ingested sand, fouling their motors – but the passengers fell in love with the beach party and the private port was born.
Other cruise lines soon followed suit, including Princess Cruises, which in 1992 acquired what became Princess Cays in the Bahamas. Royal Caribbean introduced Labadee on Haiti in 1988, followed by Little Stirrup Cay, which became Coco Cay in 1990. When Disney Cruise Line launched in 1998 they featured the first pier so that passengers were able to walk on and off without tenders.
The competition to create unique private destinations continues and later this year, MSC Cruises will introduce its first private port, the Ocean Cay MSC Marine Reserve, 60 miles from Miami in the Bimini island chain. Billed as "an environmental paradise" it will feature a wide array of activities including exploring the underwater marine reserve as well as seaside restaurants, tiki bars and the Yacht Club and Spa. MSC's ships will stay until midnight offering dinner and evening entertainment on shore.
Many of the cruise lines have also used island upgrades as a new source of revenue. Watercraft and activities such as swimming with the dolphins or stingrays are sold as tours and most do not include alcohol on the islands as part of the passengers' onboard drink packages. NCL, like many of its competitors, added private villas that can be rented for the day on Great Stirrup Cay. Similarly, Holland America, which now shares Half Moon Cay with Carnival Cruise Line, also added villas with optional butler service and a lobster shack that requires an extra fee.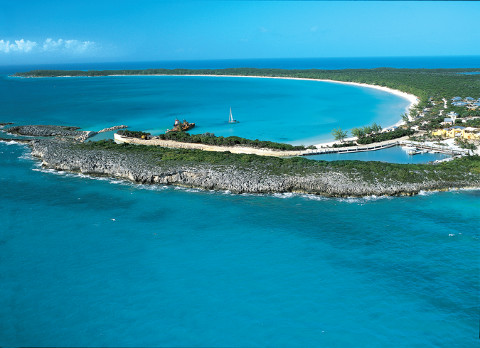 Half Moon Cay
While most passengers welcomed the upgrades, some such as Alice on the HAL Blog responded: "HAL please don't add more stuff!!! Less is more!" Passengers commented they don't need music and shops, preferring the natural beauty to what they see as noise and commercialization.
"The cruise lines have done an extraordinary job of building their private islands to create an experience that captures the laid-back, 'fun in the sun' vision most people embrace," says Don Walker Co-President of the online travel agency iCruise.com. However, he also cautions, "The majority of our clients also want to experience different cultures and interact with locals from various islands."
Passengers such as inveterate cruiser Teyoune Harris agrees, saying: "The man-made sand and beaches gets old pretty quickly." She is looking to explore the local culture and explore new places and while the private ports are nice, she says they provide "no authenticity to the islands."
Some of these concerns are addressed at newer private ports that combine the resort-style amenities with local attractions. For example, Royal Caribbean in partnership with the Port Authority of Jamaica re-initiated the historic port of Falmouth, which was billed as the "first-ever thematic cruise port." Similarly, NCL in conjunction with Belize developed Harvest Caye, a 75-acre destination with resort amenities but also offering tours to the nearby rainforest and an ancient Mayan archaeological site.
Many passengers say that they prefer destinations such as Falmouth, Harvest Caye and Amber Cove, which Carnival Corporation created on the northern coast of the Dominican Republic. "While they have the feel of an exclusive private port, you also have the added bonus of being able to take advantage of local excursions and immerse yourself in the regional culture," comments Tracy Cole a frequent cruiser over the past 10 years.
With the popularity and success of the private ports, and following Royal Caribbean's lead, it is likely that the concept will be expanded beyond the Caribbean to other areas of the globe.