Sulu Sea Joint Patrol Agreement Signed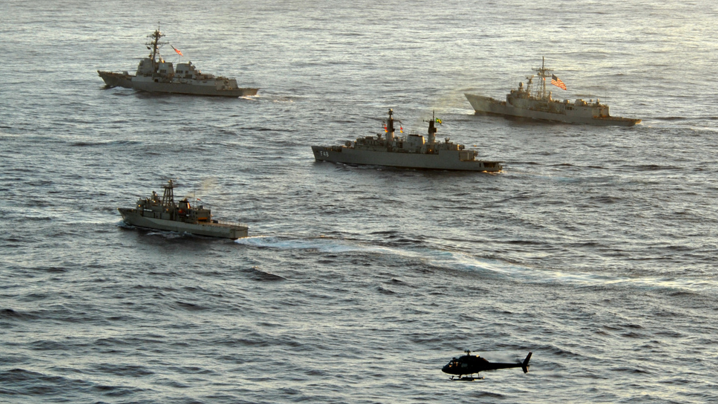 The Philippines, Malaysia and Indonesia have reached an agreement to permit joint operations in all three nations' territorial waters – including the right to chase suspected pirates across boundary lines in "hot pursuit" enforcement actions.
The joint patrol agreement is an attempt to combat an outbreak of maritime piracy and kidnappings perpetrated by terrorist organization Abu Sayyaf, which is associated with ISIS and Al Qaeda.
Defense ministers from the three nations met in Bali on Tuesday to sign an agreement on "standard operational procedures" for naval cooperation.
"The SOP later will provide details on how long Indonesian personnel can stay in Malaysian and Philippine waters. Whether it is only one hour or several, it should be discussed and agreed upon during Wednesday's forum," said defense expert Kusnanto Anggoro, speaking to the Jakarta Post. Indonesia has led the call for the right to "hot pursuit" maritime boundary crossings.
"Implementation of the agreement must be conducted as soon as possible due to the high intensity of threats, such as the hostage-taking of several Indonesians by militant groups," said Indonesian Defense Minister Ryamizard Ryacudu following the meeting.
The nations have not yet reached an agreement on whether the right to pursue suspects will extend onto land. Their three navies have already begun combined sea patrols.
A designated security corridor for vessel traffic is also under discussion, which would help security forces focus their patrol efforts.
Even if fully and successfully implemented, the agreement may not be enough to combat Abu Sayyaf kidnappings, says Zachary Abuza, PhD, a professor at the National War College. "Manila is unlikely to allow armed convoys from Malaysia or Indonesia to continue into Philippine waters," he wrote. "The weak link remains the limited capabilities of the Philippine Navy, Coast Guard, and law enforcement authorities. What little the Philippines actually has is primarily focused on their maritime claims in the South China Sea."