Sulfur Cap to Drop in 2020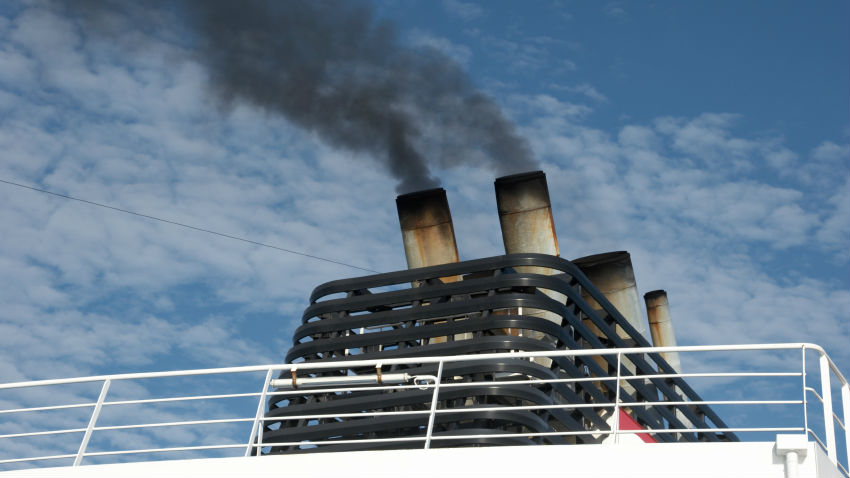 The IMO's Marine Environment Protection Committee has agreed to reduce the global sulfur emissions limit to 0.5 percent in 2020. The agreement not to delay the new limit until 2025 was reached at a session on Thursday.
The move from 3.5 to 0.5 percent will add extra costs to the shipping industry at a time when parts of it are going through their worst ever downturn. Analysts estimate the additional costs for the container shipping sector alone could be $35-$40 billion.
Switzerland-based MSC, the world's No.2 container line, estimated its own additional annual fuel costs at $2.02 billion. The group said it had invested in energy and environmental protection in recent years.
"We fully support the industry's initiatives to reduce emissions," MSC chief executive Diego Aponte said. "We are, however, mindful of the challenges involved in achieving full compliance, particularly when the industry is facing some exceptionally difficult times."
The Fuel Switching Option
Some in the industry have question whether refiners would undertake lengthy and costly investments to produce lower sulfur fuel, and so question whether there would be enough produced to meet demand.
"There will be much to do between now and 2020 to ensure that sufficient quantities of compliant marine fuel of the right quality will indeed be available, and that this radical switch over to cleaner fuels will be implemented smoothly ... without distorting shipping markets or having negative impacts on the movement of world trade," said Simon Bennett, director of policy and external relations with the International Chamber of Shipping association, which also welcomed what it said was the clear decision by IMO member states on the 2020 date.
Refiners will also be affected. Around three million barrels per day of high-sulfur fuel oil go into bunker fuel for ships, and most of that will be replaced with lower-sulfur distillates.
"The big thing that is unknown is the implementation roadmap. That will determine how disruptive this is going to be," said Alan Gelder, head of refining research with energy consultancy Wood Mackenzie.
"The refineries will need to run in a way they have never run before."
Refineries that do not have the ability to convert the fuel oil into higher quality products will struggle to remain profitable as this big outlet for lower-quality fuel disappears.
"Refiners will not invest to de-sulfurize fuel oil, and there is not enough low-sulfur fuel oil to meet demand from the shipping sector," said Robert Campbell, head of oil products research with consultancy Energy Aspects.
Scrubbers
Rather than switching to cleaner fuels, shipping companies have the option to install scrubbers. Thomas Koniordos, Head of Business Line Environmental Solutions for scrubber manufacturer Yara International, says it's anyone's guess what will be the scrubber uptake.
"We do know that the large shipowners are preparing for maybe even massive investments in scrubbers, as the economy in doing so is by far better than sailing on expensive MGO/MDO. The scrubber option will make sense to shipowners who plan to keep a vessel in operation for at least five years. It's inevitable fuel prices will rise, further increasing the price spread between heavy fuel oil (HFO) and MGO, and they will be better off for having invested in a scrubber."
Marine scrubbers are engineered to each particular vessel and so are suitable for all vessel types. Koniordos said that scrubbers simplify compliance. "The regulations under the new sulfur cap only allow vessels with scrubbers installed to have heavy fuel oil in their fuel tanks. This will simplify enforcement tremendously. Enforcement will be a simple check: Does the vessel carry any non-compliant fuel if it has no scrubber installed?
"The port states charged with the enforcement cannot control vessels on the open seas, but it will not be possible for vessels without scrubbers to use HFO outside port states waters because they will be prohibited from carrying HFO in general."
The new sulfur cap will be a driving force towards earlier scrapping as shipowners will, in the long term, be better off investing in a younger, more environmental friendly global fleet, says Koniordos.
Environmentalists Happy
The shipping industry is among the world's biggest sulfur emitters, with sulfur oxide content in heavy fuel oil up to 3,500 times higher than the latest European diesel standards for vehicles, and environmental groups welcomed the outcome.
Studies link sulfur oxide emissions from ship exhausts to the death of tens of thousands of people each year mainly from cancer and heart and lung diseases. This is why North America, and parts of Europe and China already demand that ships use fuel with a sulfur content of 0.1 percent or less.
"This is a landmark decision and we are very pleased that the world has bitten the bullet and is now tackling poisonous sulfuric fuel in 2020," said Bill Hemmings of campaigner Transport & Environment.
"This decision reduces the contribution of shipping to the world's air pollution impact from about five percent down to 1.5 percent and will save millions of lives in the coming decades."