Sudden Tsunami Kills Hundreds In Java and Sumatra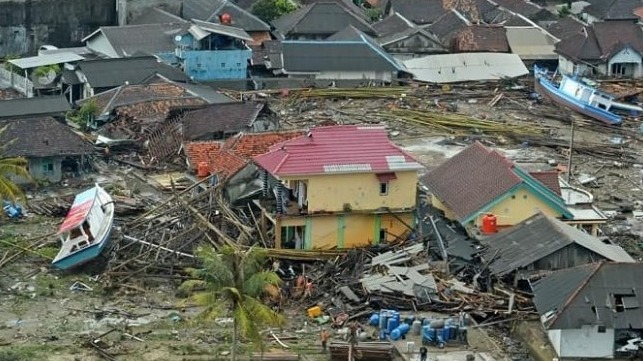 At least 370 residents of the islands of Java and Sumatra were killed Saturday when a sudden tsunami struck the coastline, flooding streets, destroying houses and littering the shore with fishing vessels.
An eruption of the volcano Anak Krakatau set off an underwater landslide at 2130 hours local time Saturdday, triggering a giant tsunami. While Indonesia has tsunami-detection buoys positioned off its coastlines, they have not functioned for six years, according to the National Disaster Management Agency (BMKG). But given the landslide's proximity to inhabited areas, an early-warning system may not have affected the outcome, according to experts. Anak Krakatau is located at the entrance to the Sunda Strait, about 20 nm from the nearest populated shores.
In addition to the rising death toll, more than 1450 were injured in the disaster, and another 130 remain missing, according to BMKG. More than 5,600 people have been forced to evacuate due to the damage.
Among the victims were several members of the popular Indonesian pop band Seventeen, which was performing at Tanjung Lesung Beach Resort in Banten when the tsunami struck. The Indonesian actress Dylan Sahara, wife of Seventeen's lead singer Ifan Seventeen, is also missing.
This is terrible????a band Seventeen while performing was suddenly attacked by tsunami in Indonesia.
Amidst our festivities for the Christmas Season let us take time to offer a prayer for all the victims. #prayforindonesia #prayforseventeen

pic.twitter.com/zAHE1wgbeY

— BehJoyce (@beejoyceful) December 23, 2018
Tsunami forecast
Six years ago, a team of researchers led by Prof. Thomas Giachetti of the University of Oregon predicted that a flank collapse at Anak Krakatau could trigger a dangerous tsunami. The paper suggested that a collapse could create "an initial wave 43 m in height that would reach the islands of Sertung, Panjang and Rakata in less than one minute," then striking the western coast of Java within 15 minutes with wave heights of 1.3-3.4 meters.
Satellite imagery of the volcano taken after the tsunami indicates that the volcano's side collapsed on its southwest flank, the location that Prof. Giachetti's team warned about in 2012.