Photos: Stricken Norwegian Frigate Sinks Near Bergen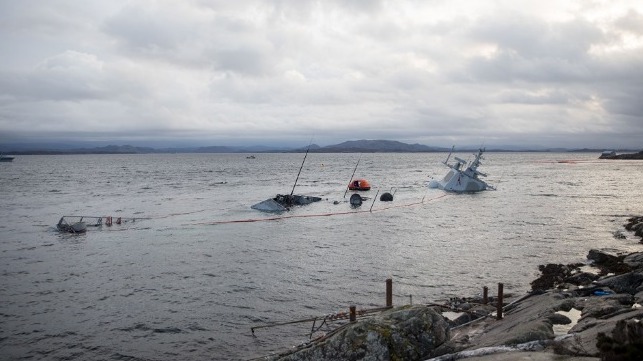 Despite salvage efforts, the wrecked Norwegian frigate Helge Ingstad has sunk beneath the waves near Bergen, Norway. The Ingstad collided with a merchant tanker on Thursday and was intentionally grounded in an attempt to prevent her from fully sinking.
Over the weekend, salvage divers and shoreside teams connected steel cables from the Ingstad's hull to hard points on shore in hopes of restraining her movement. However, multiple wires parted last night, and salvage supervisors determined that it was not safe for divers to go in again to rig replacements. The vessel sank further, and as of Tuesday, only the top of her radar tower remained above the surface. She is now stable in deeper water, according to Norwegian Defense salvage chief Haavard Mathiesen.
Salvors had hoped to move the Ingstad from the location of the grounding to the nearby Haakonsvern Naval Base. However, the vessel's sinking will complicate the operation.
The Helge Ingstad had just returned from participating in NATO's Trident Juncture 2018 exercise, and she is believed to be loaded with a full complement of munitions. She has an unspecified quantity of aviation gas and bunkers on board, and some of her light fuel escaped into the environment after the collision. As the spill is expected to dissipate quickly, cleanup efforts were deemed impractical.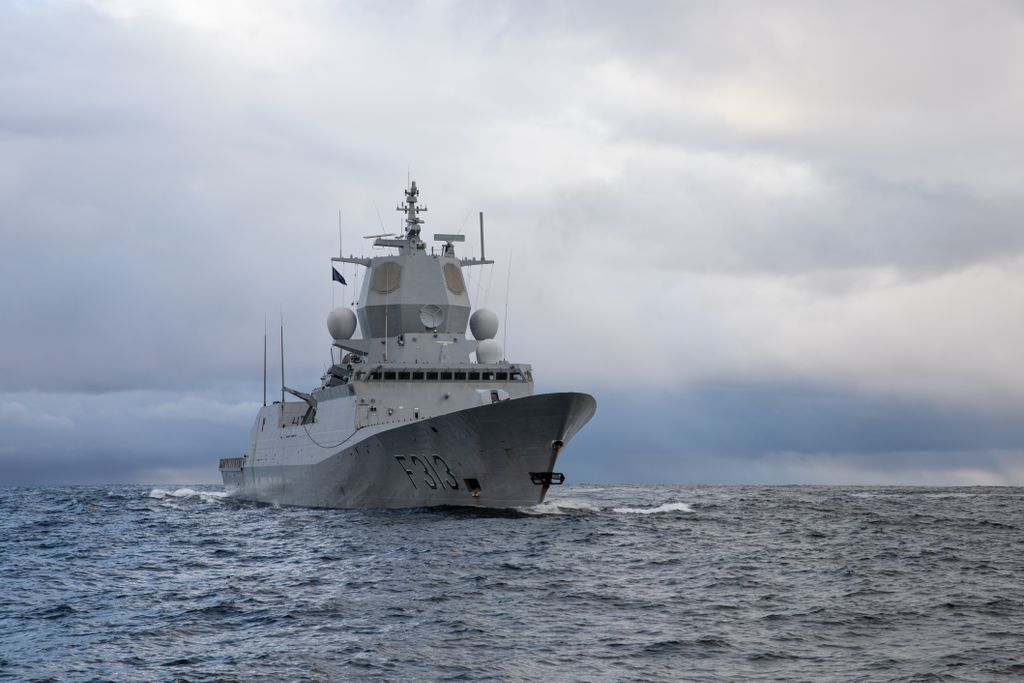 Helge Ingstad during Trident Juncture 2018 (Forsvaret)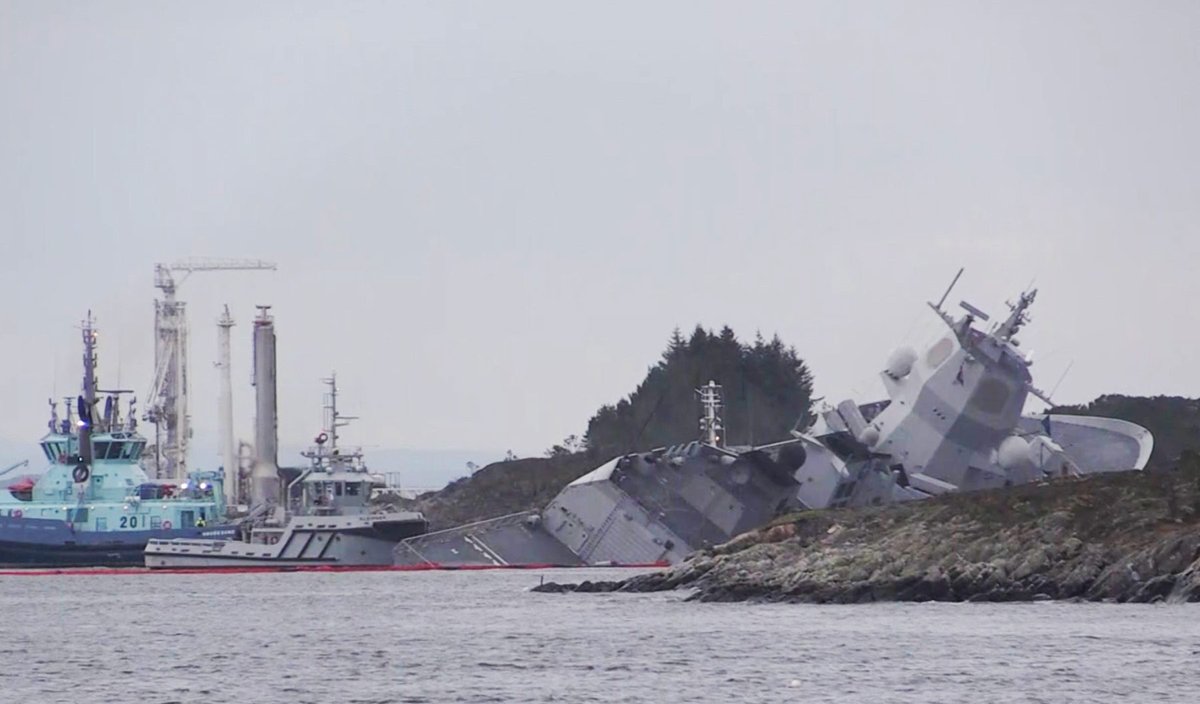 The Ingstad aground near the Sture terminal, November 8 (Forsvaret)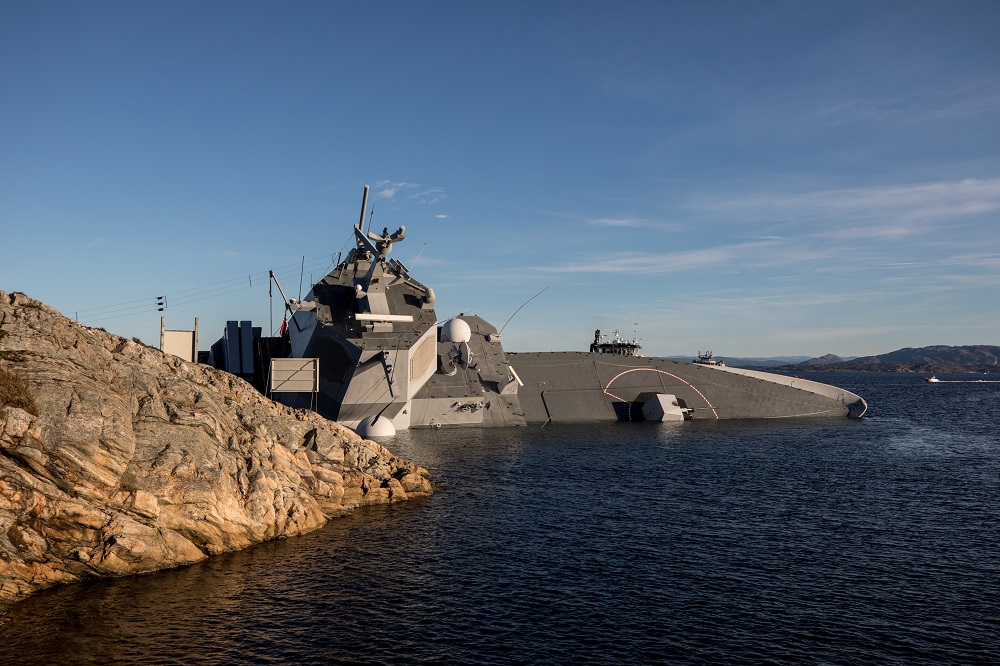 November 9 (Forsvaret)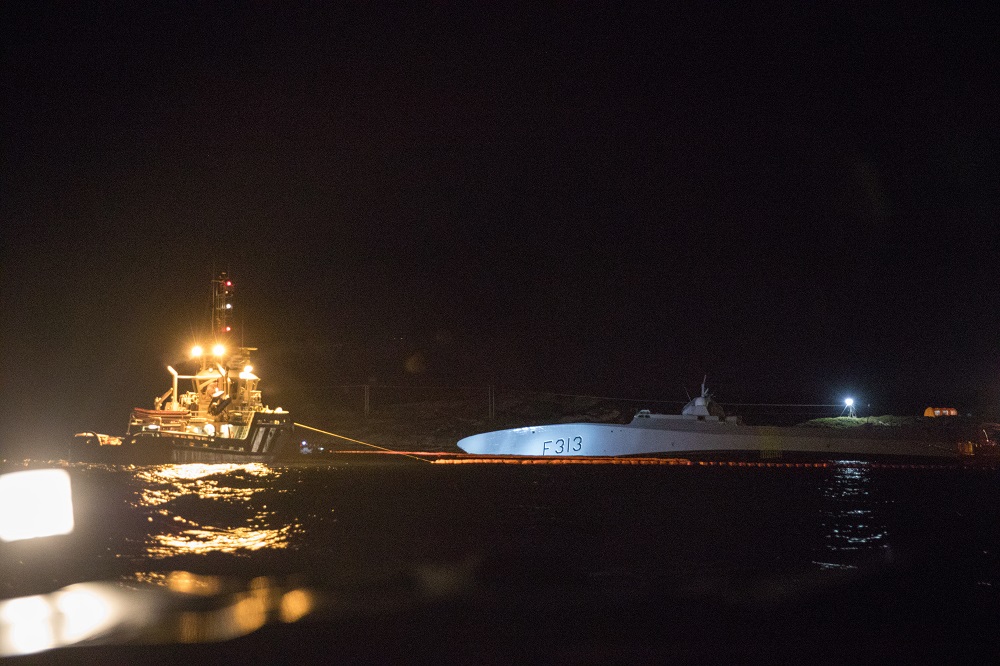 November 9 (Forsvaret)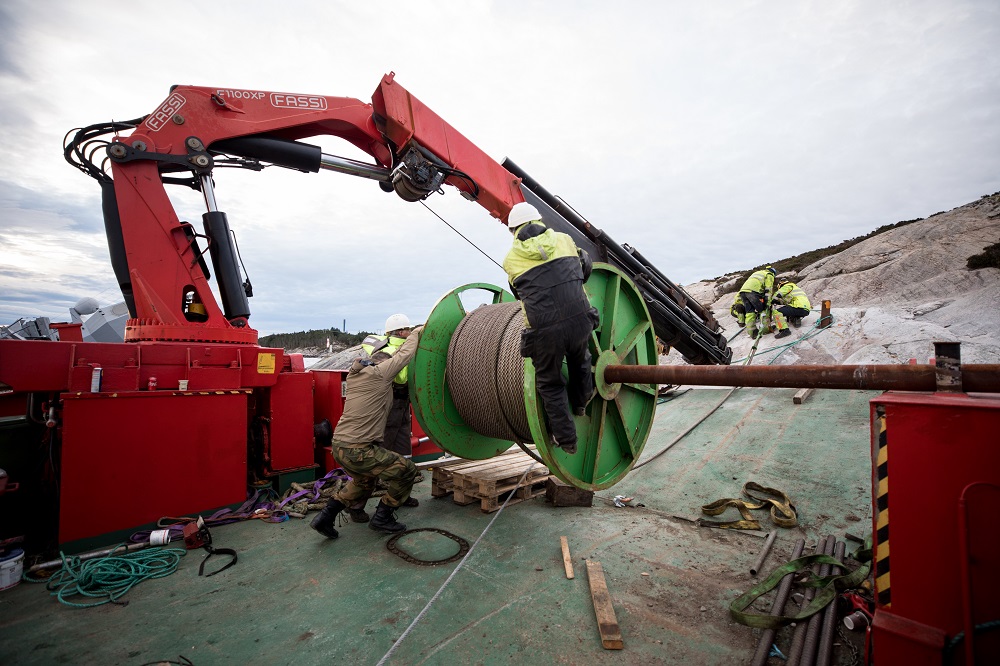 Rigging cables to stabilize the wreck, November 10 (Forsvaret)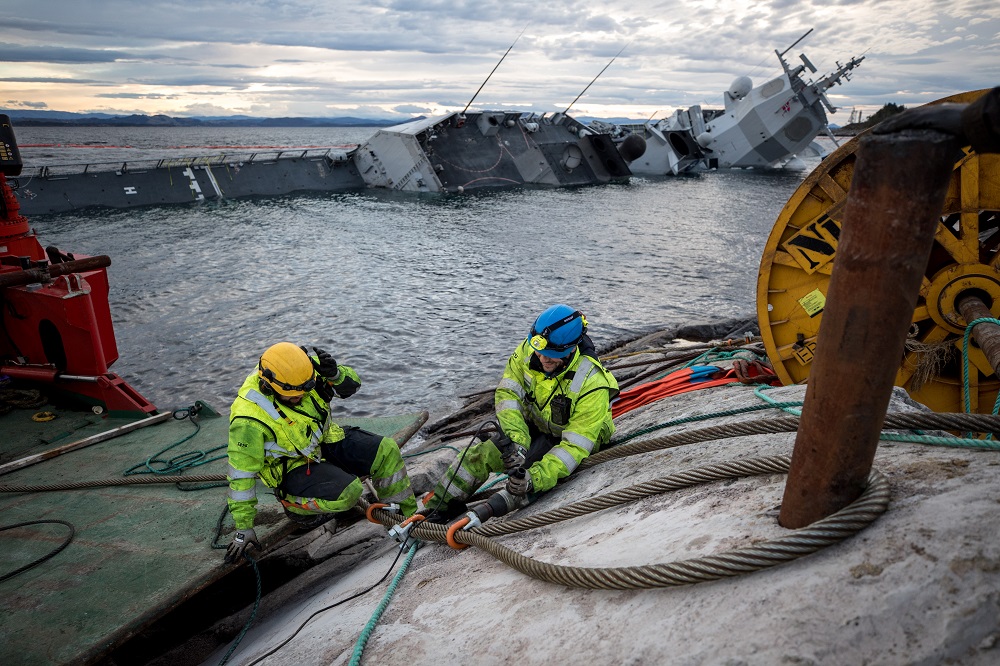 Rigging cables to stabilize the wreck, November 10 (Forsvaret)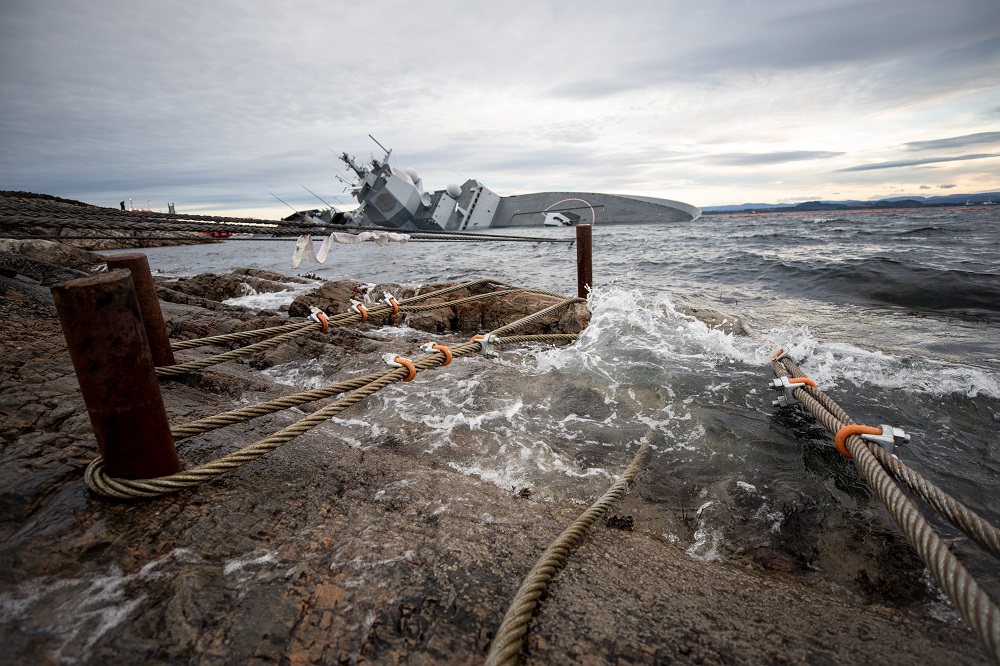 November 10 (Forsvaret)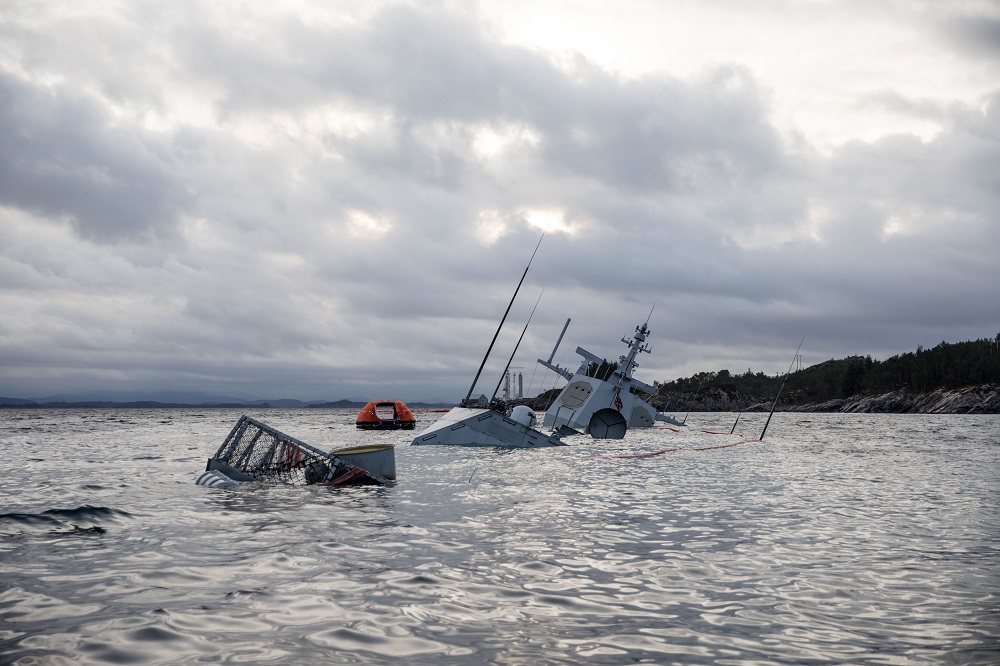 November 13 (Forsvaret)
In the early hours of Thursday morning, the Helge Ingstad was approaching the Sture oil terminal near Bergen, headed inbound for Haakonsvern. The Aframax tanker Sola TS was departing the terminal and headed outbound. According to local reports, Sola TS observed the Ingstad visually shortly after leaving the dock and called her via VHF to determine her intentions. The VTS station at Fedje also corresponded with the Ingstad. Despite the radio communications, the two vessels collided at 0403 hours, damaging the frigate above and below the waterline and injuring eight of her crewmembers.
The Ingstad was disabled by the accident, and the Norwegian Navy took the decision to push her onto the shore near the Sture terminal in order to prevent her from settling into deeper water. Her crew abandoned ship without further incident and mustered at Haakonsvern for debriefing.
The Norwegian military has declined requests for comment about the cause of the incident, citing an ongoing investigation.
The Norwegian Armed Forces are managing the salvage operation, in cooperation with Norway's Coastal Administration. The Norwegian Civil Aviation Commission and the local police are investigating the cause of the casualty.