Startup Uses Ammonia Cracking to Fuel Deltamarin Bulkers with Hydrogen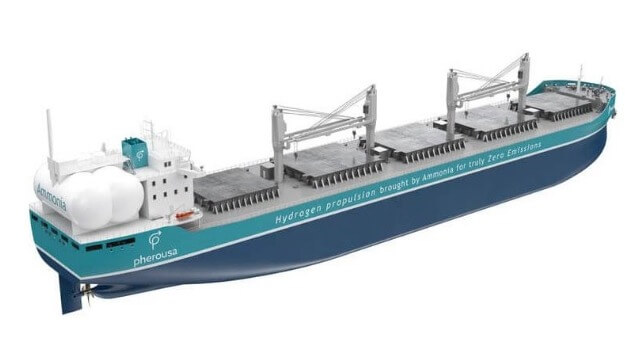 A Norwegian startup company reports it has developed the technology required for ships to operate on pure hydrogen as their fuel. Pherousa Green Shipping, started this year as an offshoot of Pherousa Green Technologies (PGT), proposed to solve the challenges of storing and using hydrogen on deep-sea shipping with the installation of an ammonia cracker allowing ships to separate and use the enriched ammonia and resulting hydrogen as marine fuel.
"The only fuel that is truly zero emission is hydrogen, but hydrogen storage is the biggest challenge for deep-sea shipping. Ammonia is the only readily available hydrogen carrier that has no carbon in its molecule, therefore the only truly zero-carbon hydrogen carrier," explains Hans Bredrup, PGT Group Chairman. "The ammonia cracking technology developed by PGT is a game changer that could become a major contributor toward the realization of the world´s zero-emission shipping."
According to the company, the cracking system provides the next step in making deep-sea shipping truly zero emissions and allows the use of ammonia and hydrogen in a cost-efficient way. At the core of the project is PGT's ammonia cracking technology, which allows the ship's engines to be operated with a minimal amount of pilot fuel, providing a truly zero-emission vessel using enriched ammonia and hydrogen as fuel. The system also enables the use of pure hydrogen in PEM fuel cells instead of direct ammonia fuel cells for electric power production.
Pherousa Green Shipping reports it is in the design stage of placing an order for up to six modern green-profiled Ultramax dry bulk carriers, that will employ this technology. The initial ship design is based on an existing Deltamarin Ultramax model, adapted for the Pherousa Green Technology outfitted for ammonia. The initial fleet of six Ultramax dry bulk carriers the company says would be targeted at the worldwide copper industry, which is also moving aggressively to cut emissions.
Ongoing and advanced conversations reportedly have been held with leading international mining companies for their employment of the new ships. PGT reports it is also working actively with fuel suppliers, yards, and financiers for the development and operation of the vessels.
PGT says it will deliver the "plug and play" ammonia crackers to PGS for installation onboard the newbuilds. Working with Deltamarin, a ship design and engineering company based in Finland, they also look to further develop the concept for a long-endurance ammonia-fueled Ultramax bulk carrier. The two companies also aim to enter into a strategic partnership agreement to drive the development of ammonia technology for use within the deep-sea segment.
PGT was founded in 2020 by Vasilis Besikiotis and Tonny Thorsen. Besikiotis is an international expert in hydrogen and has a Ph.D. in the field of fuel cells and electrolysis, while Thorsen has a strong commercial background with 35 years of experience in shipping.