Starlink Makes Inroads in Alaska Cruise Market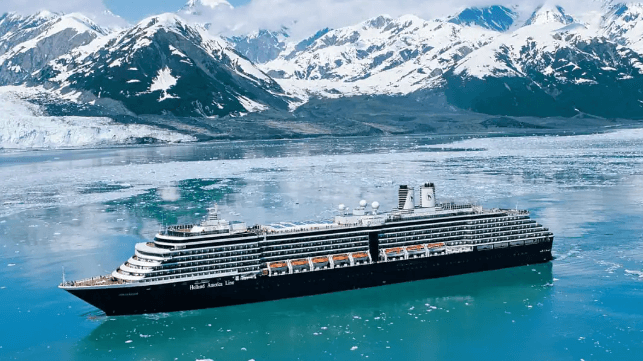 SpaceX's Starlink LEO satcom service has quickly taken a big bite of the maritime connectivity market, particularly in the cruise sector, where a combination of high bandwidth and low latency are important to customers. It is also getting positive reviews on a challenging route - the Inside Passage voyage from Seattle to Alaska.
Carnival's brands are rolling out Starlink across their fleets, and for Holland America, the service launch started aboard the Koningsdam. The cruise ship received Starlink terminals during an April drydocking and has been using the system on its regular run between Seattle, Juneau and Glacier Bay. The route includes transits through narrow channels hemmed in by steep terrain, where sightlines might not be optimal for typical satcom connectivity. Alaska's occasionally unpredictable weather can also create challenges for broadband satellite services, which operate at a higher frequency and are more vulnerable to disruption from rain.
Despite these challenges, the early reviews suggest that Starlink internet access performed well throughout the trip. One cruise blogger reported speeds over 110 mbps over the ship's wifi, rivaling home internet speeds.
"While it's early in our usage, the feedback from guests and team members has been very positive so far," said Kathleen Erickson, vice president of technology for Holland America Line. "We're hearing from guests that emails and social media are performing well, and team members tell us that internet calls home to loved ones are much stronger. That's a connection that means a lot."
New low earth orbit (LEO) satellites like SpaceX's Starlink constellation circle at altitudes as low as 350 miles. At this range, real-world latency can be as low as 30-40 milliseconds - approaching cable internet performance. This is attractive for video calls and other applications where a long "time lag" in the connection can be disruptive.
Carnival Corp. started its Starlink rollout in December with the Carnival Cruise Line and AIDA Cruises fleets, and it plans to add Starlink to other brands, including all of Holland America's fleet. It has emphasized that it will maintain a "multi-provider" satcom service portfolio, and it plans to route its data traffic as needed among multiple services.
Royal Caribbean and Hurtigruten were early adopters, and NCL, Silversea and Windstar have also joined in. Commercial maritime users include Eastern Pacific, Columbia Shipmanagement and Anglo-Eastern.
"We're excited that Holland America Line is seeing strong results in Alaska," said Jonathan Hofeller, vice president of commercial sales for Starlink. "And we look forward to helping Holland America Line and other Carnival Corporation ships continue to bring the connectivity experience for their guests and crew into the modern age."