South Korea Takes Command of Multinational Counter-Piracy Taskforce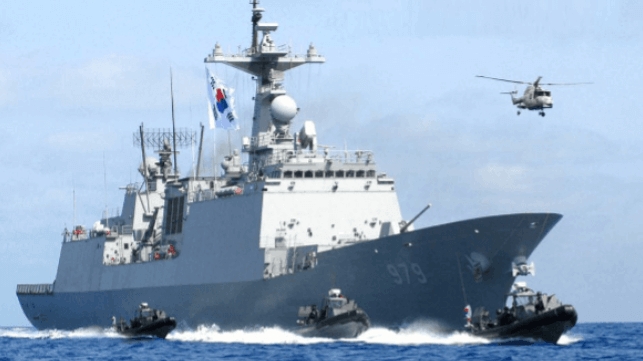 South Korea has taken over the command of the multinational anti-piracy task force under the Combined Maritime Forces (CMF). The naval task force, commonly abbreviated as CTF 151, is one of the four task forces under CMF, the largest naval partnership in the world with 38 member-nations and partners.
The change of command comes at a time the Gulf and the Indian Ocean regions are seeing an increase in shipments of illicit weapons from Iran to its proxies in Yemen.
South Korea took over the CTF 151 command from Brazil at an event this week held at the U.S Navy Base in Bahrain. Brazil have been at the helm of CTF 151 task force since August last year, led by Brazilian Navy Rear Adm. Nelson de Oliveira Leite. During the six months, Leite oversaw two major maritime anti-piracy operations.
While taking up the mantle, South Korea Navy Rear Adm. Ko Seung- bum promised further close cooperation with all the involved navies under CTF 151.
South Korea first deployed its warships in the Gulf of Aden in 2009. In 2020, the South Korean Navy marked a milestone after providing one million miles of convoy support for counter-piracy operations in the region. This mainly involves accompanying merchant vessels transiting the Gulf of Aden and Indian Ocean High Risk Areas.
CTF 151 was established in 2009, with a specific mission to counter piracy activities within the international waters of the Red Sea, Gulf of Aden, Somali Basin, the Indian Ocean and the Gulf. Its creation was necessitated by the rise of Somali piracy in the early 2000s, hindering free flow of international trade in some of the world's most important shipping routes.
While piracy incidents in the region have significantly fallen, illicit maritime activities ranging from arms smuggling to drug trafficking are still common in the CMF area of operation.
Recently, a U.S Coast Guard vessel seized illegal drugs with estimated value of $33 million from a fishing vessel transiting international waters in the Gulf of Oman. The coast guard vessel was patrolling the regional waters in support of CMF maritime security operations.