South China Sea: Malaysia Eyes Harder Response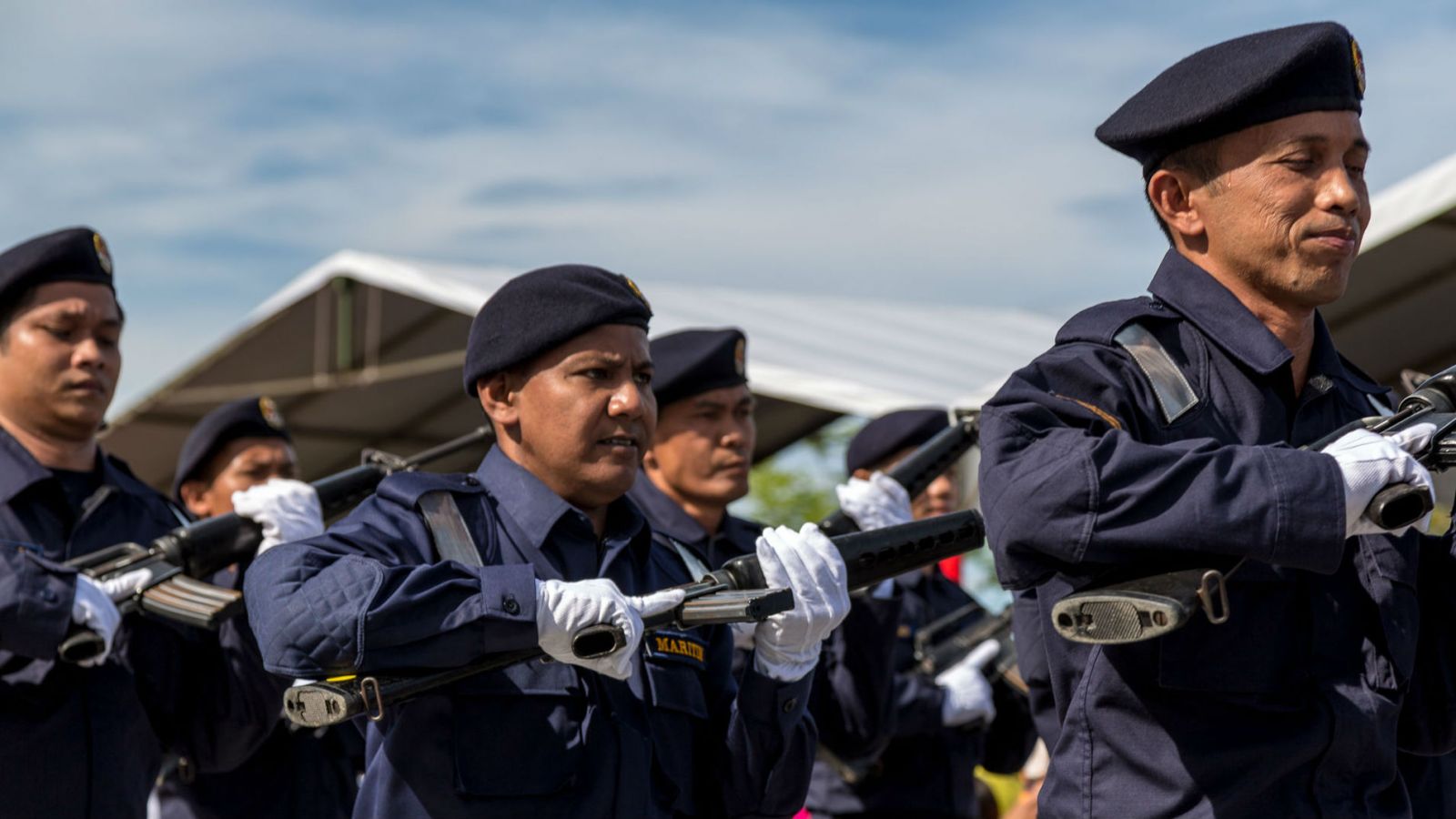 Spotting a large vessel off the coast of Sarawak state in March, officers on a Malaysian patrol boat were shocked when it steamed towards them at high speed, blaring its horn before veering off to reveal "Chinese Coast Guard" emblazoned on its side.
According to an officer from the Malaysian Maritime Enforcement Agency (MMEA), Chinese Coast Guard vessels have been sighted several times before around the South Luconia Shoals, off the oil-rich town of Miri. But such an aggressive encounter was a first.
"To us, it looked like an attempt to charge at our boat, possibly to intimidate," said the officer, who was not authorized to speak publicly.
Spurred by the incident and the appearance of some 100 Chinese fishing vessels in the area around the time, some in Malaysia are hardening the nation's previously muted responses towards their powerful neighbor China.
One senior minister said Malaysia must now stand up against such maritime incursions as China flexes its muscles along dozens of disputed reefs and islands in the South China Sea.
China's growing assertiveness has already alarmed the Philippines, Vietnam and other claimants. It has also increased U.S.-China tensions, with the two heavyweights trading accusations of militarizing the vital waterways through which some $5 trillion in trade passes each year.
But heralding its "special relationship" with China, and heavily reliant on trade and investment, Malaysia's previous responses to China's activity in the region have been described by Western diplomats as "low-key".
It downplayed two naval exercises conducted by China in 2013 and 2014 at James Shoal, less than 50 nautical miles off Sarawak. And in 2015, concerns raised by Malaysian fishermen in Miri about alleged bullying by armed men aboard Chinese Coast Guard vessels were largely ignored.
FISHING FRACAS
But when scores of Chinese fishing boats were spotted in March encroaching near South Luconia Shoals, a rich fishing ground south of the disputed Spratly Islands, Malaysia sent its navy and uncharacteristically summoned China's ambassador to explain the incident.
China's foreign ministry downplayed the matter, saying its trawlers were carrying out normal fishing activities in "relevant waters."
Just a couple of weeks later, Malaysia announced plans to set up a naval forward operating base near Bintulu, south of Miri.
The defense minister insists the base, which will house helicopters, drones and a special task force, is to protect the country's rich oil and gas assets from potential attacks by Islamic State (IS) sympathizers based in the southern Philippines, hundreds of kilometers to the northeast.
Some officials and experts however say China's activities off the coast are a more important factor.
"If you beef up security for oil and gas assets, you are protecting yourself from non-state and state actors so there is some plausibility to what he's saying," said Ian Storey, a South China Sea expert at Singapore's ISEAS Yusof Ishak Institute.
"But is it really being driven by Daesh? I don't think so," Storey added, using an alternative name for IS.
Underscoring the hardening attitude, one senior federal minister said that Malaysia must take more decisive action on maritime incursions or risk being taken for granted.
The minister, who asked not to be named due to the sensitivity of the matter, highlighted the contrast between Malaysia's response in March to a similar incident just days earlier in neighboring Indonesia.
"When the Chinese entered Indonesia's waters, they were immediately chased out. When the Chinese vessels entered our waters, nothing was done," the minister said.
Last month in parliament, Malaysia's deputy foreign minister also reiterated that like other Association of Southeast Asian Nations (ASEAN), Malaysia did not recognize China's controversial Nine Dash Line, which it uses to claim over 90 percent of the South China Sea.
LIMITED OPTIONS
Asked about the incident described by the MMEA officer, China's foreign ministry said both countries had a "high degree of consensus" on dealing with maritime disputes through dialogue and consultation.
"We are willing to remain in close touch with Malaysia about this," spokeswoman Hua Chunying said.
Malaysia's reliance on China goes some way to explaining Kuala Lumpur's reluctance to react more strongly.
China is Malaysia's top export destination and Malaysia is the biggest importer of Chinese goods and services in the 10-member ASEAN group.
Corporations owned by the Chinese government also paid billions of dollars last year to buy assets from debt-riddled state investment firm 1MDB, which has been a major embarrassment for Prime Minister Najib Razak.
China's influence in Malaysia's domestic affairs has always been a concern for the Malay-majority nation. Ethnic Chinese in Malaysia account for about a quarter of the population.
Diplomatic ties between the two countries were tested in September when the Chinese ambassador visited China town in the capital Kuala Lumpur ahead of a pro-Malay rally, and warned that Beijing has no fear in talking against actions that affect the rights of its people.
The ambassador was summoned to explain his comments but the Chinese foreign ministry defended the envoy.
Seeking to balance its economic and national security interests, Malaysia is pursuing various strategies including bolstering its surveillance and defense capabilities while promoting a code of conduct between China and ASEAN countries signed in 2002.
A more sensitive option is to seek closer military ties with the United States.
One senior official said that Malaysia has reached out to the United States for help on intelligence gathering and to develop its coast guard capabilities, albeit quietly to avoid angering Beijing.
Storey said moves to secure closer U.S. military ties could be twinned with soft diplomacy to try to convince China to be less assertive on its claims, but resolving the issue would be difficult regardless.
"None of these strategies work very well, but what can you do?" Storey said. "This dispute is going to be around for a very long time."