Somali Pirates Sentenced to Six Months Plus Time Served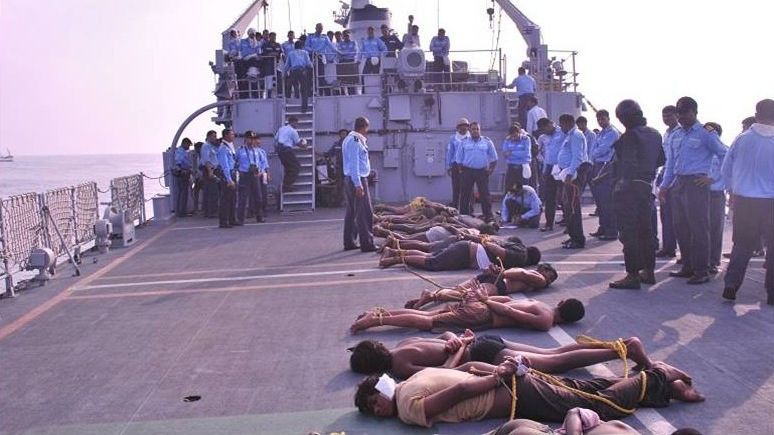 On Friday, a court in Mumbai sentenced the 15 alleged pirates from the Prantalay 14 hijacking to six months in prison plus time served. The Somali nationals were accused of taking control of the Prantalay, a Thai fishing boat, for use as a pirate mother ship.
In January 2011, the accused attempted to board a merchant ship off the coast of Kerala, 1,400 nm from Somali shores. The vessel sent a distress call and the Indian Navy and Indian Coast Guard responded. 10 of the 25 pirates aboard the boat died during the firefight that followed, a skirmish known in India as the "Battle of Minicoy Island."
The 15 surviving Somali nationals were detained and accused of kidnapping, kidnapping for ransom (a separate offense), attempted murder and arms-related charges. They were acquitted of kidnapping for ransom because the former hostages could not be brought before the court to substantiate the charges.
The accused were found guilty on the remaining charges and sentenced seven years and a small fine. As they had spent six and a half years in jail while their case proceeded through Indian courts, the men only have six months left to serve. They will be deported to Somalia after they have completed their terms.
"The offenders have been given a lesson that in India there is rule of law and that the offenders are brought to justice," Special public prosecutor Ranjeet Sangle told the Times of India. "From 2011, since the pirates were arrested, the entire piracy operation in the western waters of India has come down . . . now, I believe that it will go down to zero."
Sentencing awaits for an additional 103 alleged pirates who were detained by Indian forces in 2011, the peak year for Somali piracy in the western Indian Ocean.