SoCal Ports Rebound in August, but Have Muted Outlook for Near-Term Volumes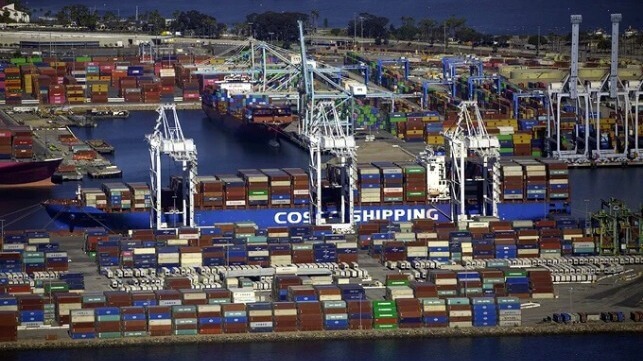 Southern California's seaports, which collectively represent the U.S.'s largest trade gateway, are still showing mixed results with muted expectations as they move into the traditionally busiest season of the year. With the uncertainties and disruptions removed after the completion of the prolonged labor contract negotiations, both the ports of Los Angeles and Long Beach are looking to rebuild market share.
The Port of Los Angeles is showing the first signs of a rebound on the West Coast. In its monthly update, Port Executive Director Gene Seroka highlighted that August was the first month with year-over-year container volume gains in 13 months, since July 2022. While overall volume remained six percent below the port's five-year running average, it was up three percent year-over-year and 21 percent ahead of July.
Imports at the Port of Los Angeles also showed their first gain in over a year up seven percent while exports had their fourth month increase. Exports showed the strongest overall increase, up 22 percent versus a year ago.
"August was a very solid month with increases both on the import and export sides of our business," said Seroka. He noted that he has been meeting with shippers both internationally and domestically to reinforce the value proposition of the Port of Los Angeles.
However, at the neighboring Port of Long Beach, CEO Mario Cordero, said "We anticipated a modest peak season as our cargo numbers continue to stabilize at pre-pandemic levels." He believes that warehouses remained overstocked and consumers continued to pivot toward travel and other summertime activities, which contributed to the declining container volumes in August.
The Port of Long Beach experienced a better than 15 percent drop in overall container volumes versus August 2022. Imports decreased by 15.4 percent, while exports were down 23.1 percent during the month. Similar to Los Angeles, they however did see an 18 percent increase in overall volume versus July as well as a 20 percent month-over-month increase for inbound volume.
With both ports' overall volumes each down more than 20 percent year to date, their expectations remain muted for the remainder of the year. In addition to continuing high inventory levels, Seroka also points to weak or declining export rates from Asia which are the major trading partners and origination points for the ports' volumes. He believes consumers remain resilient but at slower levels of spending versus the past few years.
So far, they do not believe the drought and backups at the Panama Canal have had an impact on volumes. They however highlight that both ports have capacity and are ready to help shippers by providing an alternate route. The ports had said it would take time to rebuild their volume after the 13 months of uncertainty during the union contract negotiations which is not being aided by the muted volumes and outlook for the remained of 2023.