SoCal Ports Volume Continues to Fall as Other U.S. Ports Rebound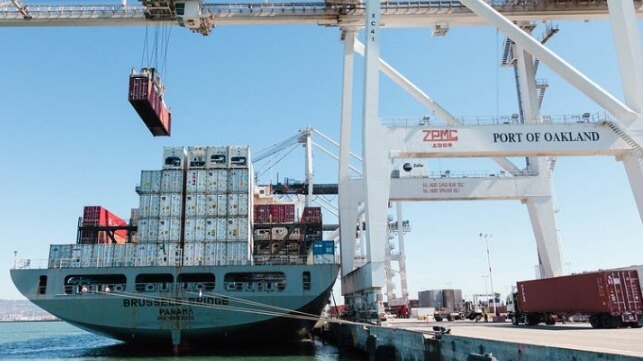 Container volumes at Southern California's ports, the largest complex in the United States, remain down significantly for the year and in the latest monthly report. Port executives had said they expected it would take time to rebuild their position after the labor settlement, but while other ports reported increases in July, Los Angeles and Long Beach reported significant declines from their record volumes in July 2022.
Los Angeles reported its July volumes today showing an overall decline of 27 percent in the number of containers moved or just 684,291 TEU. It was the third-lowest monthly total of 2023 falling back to the volumes seen in February and March. Total volume was down nearly 18 percent month-to-month from June which had been the port's best month this year. Imports continued their declines down a full 25 percent in July while exports were up six percent from low levels in July 2022. Empties leaving the port also reflected the declines in import volumes and the Chinese trade, falling 39 percent versus 2022.
Gene Seroka, Executive Director of the Port of Los Angeles continued to point to the elevated warehouse inventories of retailers and manufacturers as a key factor in the declines the port experienced. For the first seven months of the year, Los Angeles is just over 4.2 million TEU, down 24 percent versus 2022.
The neighboring Port of Long Beach saw similar declines in July. Its volume was down by more than 26 percent year-over-year. After having seen a steep decline in June, the port experienced a further three percent decline in overall volume in July. They saw significant declines in both imports (27.9 percent) and exports (17.6 percent).
"I am confident we will see our numbers improve as we work with industry partners to rebuild our market share," said Port of Long Beach CEO Mario Cordero. "Looking ahead in the near term, however, we anticipate a modest 'peak season' for shipping as consumers spend a little less this year on back-to-school supplies and gifts through the holiday season."
Yet, while the SoCal ports continue to experience soft volumes, elsewhere in the U.S., ports are reporting rebounds. To the north in Oakland, California the port had its highest volumes since October 2022. Full TEUs were up 16.8 percent last month versus the prior year. At Oakland, imports rose 12.5 percent and working from abnormally low levels in 2022, exports jumped 23 percent last month but remained lower than the monthly average in 2023.
Executives at the Port of Oakland however are saying that they believe that pandemic-era congestion and related impacts on the ports are over. They highlighted that vessel calls are continuing their upward trajectory in Oakland and the length of time each ship spends at berth has decreased.
"We are encouraged to see container volumes gradually rebounding," said Port of Oakland Maritime Director Bryan Brandes.
Over the past year, West Coast port executives have all pointed to the shifting of cargo to other ports as the labor contract negotiations for the port workers dragged on and disruptions emerged in the last weeks of the negotiations into July 2023. It was expected that it would take shippers months to adjust their plans and even with the building delays at the Panama Canal volumes continued to shift eastward.
The Port of Houston, for example, reported its highest-ever July volumes. Container volume was up five percent year-over-year, with a four percent increase in imports and a 15 percent increase in exports. The strength in exports, driven by strong demand for resins, continued a trend the port has experienced all year. Similarly, the Georgia Ports Authority also reported a 17 percent increase in container volume from June to July 2023 for Savannah, while Charleston, South Carolina also reported a 12 percent increase in container volume between June and July and a three percent year-over-year increase.
The major carriers have all forecast subdued volumes with small if any rebounds in the near term for container volumes. The expectation has been slow increases creating further challenges for the Southern California ports as they work to regain the leadership position.