Singapore Retains Top Spot in Shipping Development Index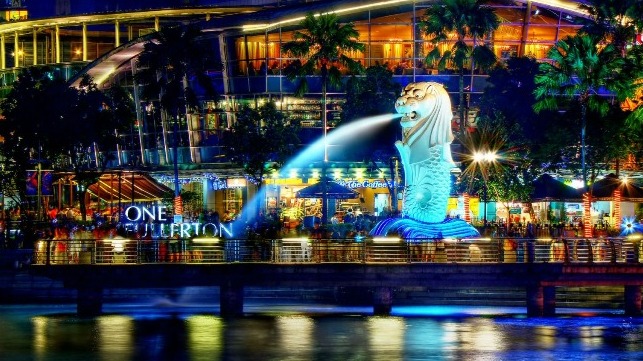 Singapore remains unmoved at the top of the International Shipping Centre Development Index for the fifth successive year, according to a report published by the Baltic Exchange and Xinhua, China's news agency.
The index covers 43 of the world's largest ports and cities, and the Asia-Pacific region now makes up 50 percent of the top 10. Singapore maintains its leading position for the fifth consecutive year due to the strategic opportunities brought about by the "Belt and Road" initiative. Hong Kong overtook London – for the first time in five years – to take second place, although London is still assessed to be the top professional maritime services location.
Shanghai moved up to fourth place due to its rapidly developing modern shipping logistics and shipping services systems, in addition to the coordinated development of its regional shipping counterparts. Tokyo held ninth position, while Busan returned to the top 10, replacing Athens, because of its strategy of vigorously developing its transhipment ports.
The impact of the overall weak economy in the European region meant London's overall development was behind that of Hong Kong, while Hamburg dropped to seventh position. However, Rotterdam jumped two places to sixth in the overall rankings due to improved operating efficiency, with new technology applications such as the internet of things, big data, and artificial intelligence, as well as smart port construction.
Elsewhere, Dubai maintained fifth in the rankings, driven by its innovative free-trade zone and improvement in trade environment, while New York dropped from seventh to eighth.
The report also provides a supplementary ranking, grading cities based solely on the breadth and depth of their maritime services sector, covering shipbroking, engineering, shipping business, legal, shipping finance service and ship repair services. The top ten port cities with the best professional shipping services are, by order of ranking: London, Singapore, Hong Kong, Shanghai, Dubai, Athens, Hamburg, New York-New Jersey, Tokyo, and Houston. Of these, London, Singapore, Hong Kong and Shanghai have been occupying the top four places for four consecutive years. Houston's shipping services have gained significant momentum in development and attained a top 10 place for the first time in five years.
Commenting on the report's findings, Baltic Exchange CEO, Mark Jackson, said: "This report underlines the constant competition and innovation taking place in cities around the world to attract maritime related businesses. Location is an important ingredient for success in the shipping industry and plays an important part in meeting the latest challenges. The right location gives companies access to clients, the best employees and is a platform for long-term business success."
Overall Ranking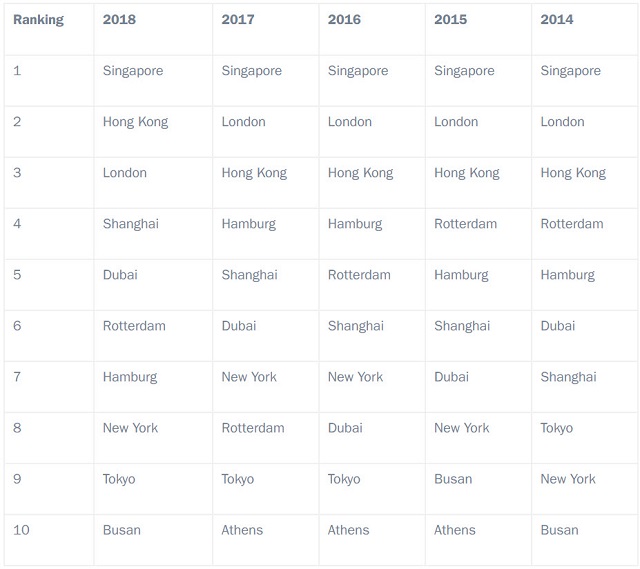 Service Ranking