Singapore MPA Unveils Smart Port Initiatives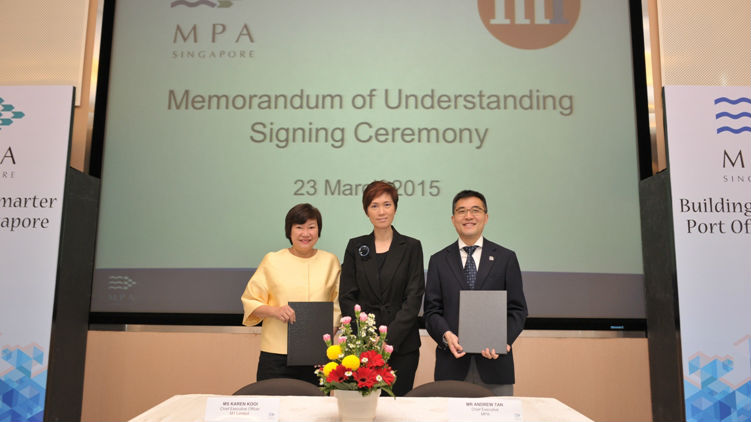 The Maritime and Port Authority of Singapore (MPA) has unveiled new initiatives harnessing the use of mobile technology and wireless connectivity to enhance communications, productivity and crew welfare in the Port of Singapore.
Andrew Tan, Chief Executive, MPA, said, "The maritime sector is undergoing significant transformation with smarter ships, just-in-time logistics and more intelligent ports being built. As a global hub port and leading International Maritime Centre, Singapore believes that it is well-positioned to leverage on the ongoing revolution in ICT, smart devices and Internet of Things (IoT). We envision a more inter-connected port with high-speed internet, extensive use of data analytics and innovative mobile solutions to enhance our port's overall competitiveness. This will benefit all users at the Port of Singapore."
Patrick Phoon, President, Singapore Shipping Association (SSA), added, "Shipping in Singapore is a round-the-clock business, with an ever-growing demand for timely, accurate information to make informed decisions fast and on-the-go. The SSA is pleased to support MPA's Smart Port initiatives as this collaboration is an important step for our vision for Maritime Singapore - it will revolutionize work processes, increase productivity and equip us to be future ready."
4G broadband access in Singapore port waters for the maritime community
To address current limitations of high-speed broadband coverage in Singapore port waters, MPA is collaborating with M1 Limited (M1) to provide the maritime community with high bandwidth, low-cost, secured, and wireless 4G broadband access, with coverage up to 15 kilometers from the coastline. The M1 network will be available from today.
MPA and M1 also inked today a Memorandum of Understanding to promote the adoption of 4G broadband coverage for vessels operating within Singapore's port waters. They will also work together on research and projects for test-bedding of new technologies that will further enhance the network coverage in the port waters and benefit the Singapore maritime community.
Free WiFi services at MPA-managed terminals for members of the public
Through the extension of the Wireless@SG programme, MPA will be providing free, basic WiFi services at the Marina South Pier, Changi Point Ferry Terminal, and West Coast Pier for members of the public from 1 July this year. This will further enhance passenger experience and business operations at the terminals.
Launch of myMaritime@SG mobile application for all
In another effort to enhance customer experience, MPA launched a new mobile application (app) 'myMaritime@SG' today, for the maritime community and members of the public to conveniently access maritime information and services on their mobile phones.
With this app, port users can obtain the latest information on ship arrivals and departures, port and marine notices, tidal information, plan their shipping routes and carry out transactions at their convenience. Members of the public can also use the app to provide feedback to MPA.
The 'myMaritime@SG' app is available on both iOS and Android mobile devices. The app is free and can be downloaded from iTunes App Store and Google Play Store. MPA will be making further enhancements to this app to include more applications when ready.
MPA-SSA Joint Grant Call for Proposals to develop apps for the maritime industry
To encourage the development of mobile applications, MPA and the Singapore Shipping Association (SSA) are jointly initiating a call-for-proposals (CFP) to invite the maritime community and solution providers to develop innovative business-to-business (B2B) apps in areas such as enhancing maritime logistics operations, ship-to-shore communications, and remote monitoring of marine operations from shore. MPA has set aside S$2 million ($1.45 million) to co-fund projects approved under this initiative.