Second Fire at Gadani, Grounding Closes Bosporus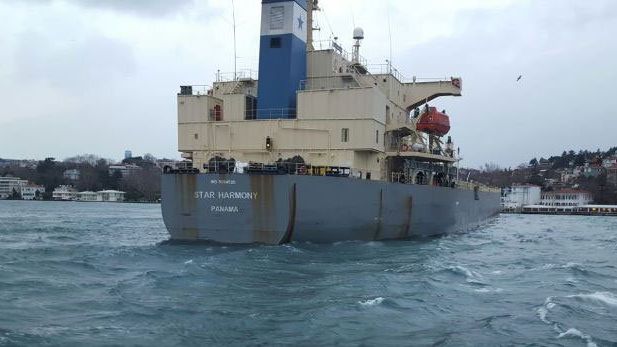 Rescue and salvage news briefs for December 22:
Second fire at Gadani
On Thursday morning, a fire broke out on a decommissioned LPG tanker at the Gadani shipbreaking yard in Pakistan. Local reports indicate that all workers on board were rescued, and the blaze was put out by afternoon.
Last month, 26 workers were killed and nearly 60 injured in a fire on the decommissioned FPSO Aces on the beach at Gadani. The incident raised calls from unions and advocates for tighter regulation of the nation's shipbreaking industry, but a government-ordered work stoppage was lifted earlier this month.
Grounding leads to closure of Bosporus
The Bosporus closed to commercial traffic for four hours on Thursday as authorities continued the response to the grounding of the bulker Star Harmony.
Reports from ships' agencies and local media indicate that she went aground following a mechanical casualty. She had no pilot on board at the time of the grounding, and no injuries or spillage were reported. Photos show her immobilized less than a cable away from the waterfront mansions of Istanbul's Yenikoy district.
Disabled car carrier towed away from coast
The ro/ro Tenerife Car lost propulsion on Tuesday evening at a position about 20 nm southeast of Valencia.
Authorities were concerned that the vessel could go aground at Cullera or Safor, and they dispatched the rescue tug Sar Mesana to respond. She established a tow and brought the Tenerife Car into Valencia without incident at about 0800 on Wednesday.
Coast Guard medevacs two injured mariners
Two crewmembers of the tanker United Ambassador were injured by a "pressurized part" on Wednesday afternoon. The U.S. Coast Guard Sector Houston received a report of the incident, and its watchstanders dispatched an MH-65 helicopter aircrew and a response boat to the tanker. On scene, the Coast Guard teams found one crewmember with a head injury, unconscious and bleeding, and one with a broken nose.
The helicopter crew flew the more seriously injured seafarer to a hospital, and he reportedly arrived breathing but still unconscious. The man with the broken nose went with the rescue boat for transfer to a medical center.
Coast Guard searches for missing cruise ship passenger
The USCG said in a statement Thursday that it is searching for a 22-year-old cruise ship passenger who was spotted "intentionally going overboard" early Thursday morning.
The cruise ship, Royal Caribbean's Independence of the Seas, was about 25 nm off of Key Largo at the time of the incident. She turned and launched two of her lifeboats to assist in the search. Local media reports and AIS data indicate that she has since resumed her commercial operations.
Four Coast Guard assets – an MH-65 helicopter, an Ocean Sentry airplane crew, the cutter Margaret Norvell and a boat crew out of Station Islamorada – were dispatched to search for the missing passenger.