Second Bulker Detained in Western Sahara Dispute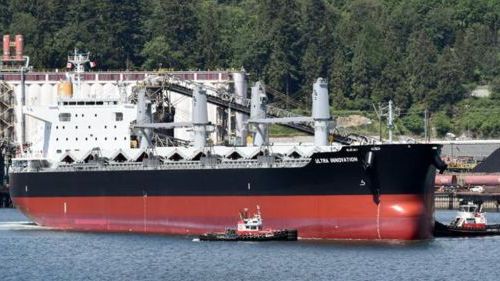 The newly built Supramax bulker Ultra Innovation has been detained by Panamanian authorities on request of the Sahrawi Arab Democratic Republic (SADR), which alleges that her cargo of 55,000 tons of phosphate was shipped illegally. She is the second bulker detained in connection with Western Saharan phosphate shipments this month.
The Ultra Innovation took on a cargo of phosphate rock from Moroccan state-owned mining firm OCP at the port of Laayoune, Western Sahara in late April. She departed for the Port of Vancouver, but her voyage was interrupted when maritime authorities detained her at the Panama Canal.
Western Sahara is the southernmost province of Morocco, but is also claimed by the Polisario Front, the governing party of the SADR. The Polisario and Morocco went to war over control of the region in the 1970s, and Morocco built a 1,600 mile wall down the middle of Western Sahara to keep Polisario raiders out of the western half. The Polisario Front maintains control of areas east of this "Moroccan Wall," and it still claims the entirety of Western Sahara.
Last year, a European court supported Polisario's claim by determining that Western Sahara should not be treated as part of Morocco in civil cases. The SADR's recent maritime court petitions turn on this decision.
"We are optimistic this second recourse to applying the law to bring an end to the blatant theft of a resource belonging to a people under occupation will demonstrate our resolve," said Polisario chief negotiator Mohamed Khadad. "There's nothing complex about territorial annexation and a selling of what is stolen property – in the face of our repeated constant protests – out the front door of our house."
Polisario filed the first petition against the handysize bulker Cherry Blossom at Port Elizabeth, South Africa on May 1. Like the Ultra Innovation, the Blossom was carrying a load of phosphate rock from Laayoune. She will be held until June 9 at the earliest, the date of her next hearing at a civil maritime court. The Polisario is expected to file further court actions against other vessels bearing Western Saharan cargos.