Sea Trials Complete for Symphony of the Seas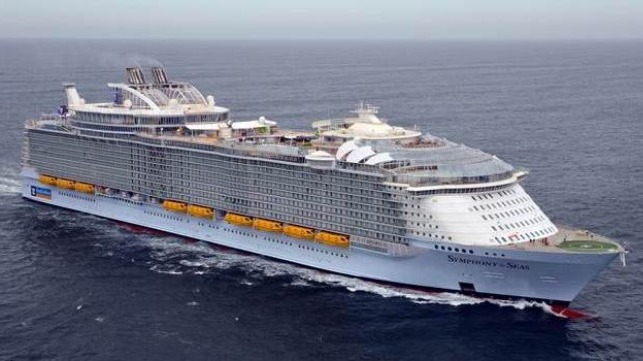 STX France has completed sea trials for Royal Caribbean's Symphony of the Seas.
The trials took place between February 15 and 18 and included over 80 hours of sailing. The vessel is now scheduled to be delivered on March 23.
Symphony of the Seas will become the 25th ship in the fleet, and her first pre-inaugural sailing will commence on March 31. She will sail to the Mediterranean and homeport in Barcelona for the summer. She will then expected to start sailing to the Caribbean out of PortMiami in November.
She will claim the title of the world's largest cruise ship, offering 28 more staterooms than her newest sister ship Harmony of the Seas and encompassing 228,081 gross registered tons, around 1,000 more than Harmony of the Seas. She is 1,188 feet long and has 18 decks, making her about the height of the Leaning Tower of Pisa.
General characteristics
Class and type: Oasis-class cruise ship
Tonnage: 230,000 gross tonnage
Length: 1,188 feet (362m)
Beam: 154 feet (47m)
Draft: 30 feet (9.1m)
Decks: 18
Speed: 22 knots (41 km/h; 25 mph) cruising
Capacity: 6,680 passengers
Crew: 2,200