Sea Machines Sets Out to Prove AI Potential with Tugboat Voyage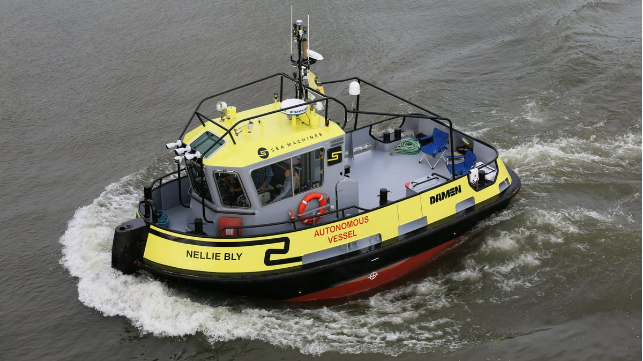 A remotely commanded tugboat is set to circumnavigate Denmark in a multi-week, 1,000 nautical mile voyage, and its operators hope to prove that the world's waterways are primed and ready for autonomous shipping.
Designed and built by Damen Shipyards, the Nellie Bly will depart from Hamburg, Germany on September 30.
Boston-based Sea Machines Robotics said the voyage dubbed 'The Machine Odyssey' marks a landfall moment for autonomous transportation, allowing the company to demonstrate how operators can integrate autonomous technology into their vessel operations for a host of technology-driven benefits, ranging from enhanced safety and reliability to leaps in productivity and new on-water capabilities.
"Just as other land-based industries shift repetitive, manual drudgery from human to predictable robotic systems, our autonomous technology elevates humans from controller to commander with most of the direct continuous control effort being managed by technology," said Michael Johnson, Sea Machines CEO.
Johnson added that recasting the human-technology relationship is the basis of a new era of at-sea operations, providing on-water industries with the tools and capability to be much more competitive and operate in better harmony with the natural ocean environment.
The Nellie Bly has been installed with Sea Machines' SM300 autonomy system. The comprehensive sensor-to-propeller system uses advanced path-planning, obstacle avoidance replanning, vectored nautical chart data and dynamic domain perception designed to control a voyage from start to finish. The vessel will carry two professional mariners and occasional guest passengers, calling on 14 ports along the route to display and demonstrate the technology.
The Nellie Bly odyssey joins a growing number of companies that are undertaking trial expeditions for autonomous systems on commercial vessels. South Korea's Hyundai Heavy Industries, Samsung Heavy Industries and Norway's Yara are among the companies that are aggressively pursuing the technology, with plans to launch it on commercial vessels as soon as 2023.
However, autonomous technology - including autonomous vessel technology - is opposed by many dockworkers. The influential U.S. International Longshoremen's Association has stated that its members will not service automated vessels operating without crews.