Scorpio Reverses Course, Opts for Fleet-Wide Scrubber Installations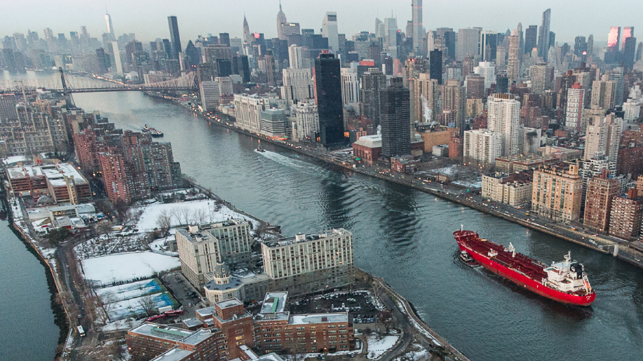 Monaco-based shipping firm Scorpio Group has decided to retrofit scrubbers onto virtually all of its product tankers and bulkers, reversing its skepticism about the technology's viability. As recently as last month, Scorpio had suggested that it did not plan to make a major investment in scrubbers.
"We have long maintained that the IMO 2020 regulations are both disruptive to the shipping industry generally as well as a powerful demand catalyst for product tankers," said Scorpio Tankers chairman and CEO Emanuele Lauro in a statement Monday. He noted that ships without scrubbers will be forced to buy new low-sulfur fuel, which Scorpio's tankers will carry to market. "Irrespective, our focus remains on operating the most competitive fleet in our marketplace, and this has led us to carefully evaluate and ultimately opt for the benefits of fitting hybrid-ready scrubbers," he said.
The firm will now retrofit scrubbers on 15 of its own LR2s and "substantially all" of its 75 other owned and leased ships, including vessels it recently acquired through its merger with Navig8 Product Tankers.
Lauro is also the CEO of related company Scorpio Bulkers, which announced Monday that it will install scrubbers on "substantially all of its owned and finance leased Kamsarmax and Ultramax vessels." This announcement brings Scorpio Group's total number of installations to more than 140 units on both wet and dry bulk vessels, marking one of the largest scrubber orders to date.
Scorpio Bulkers and Scorpio Tankers said that they have already signed LOIs with suppliers, engineering firms and shipyards to carry out the work. The project will be completed between the second quarter of next year and the third quarter of 2020, suggesting that many of the ships will be refitted before the January 2020 IMO deadline (and the expected spike in the price of low-sulfur fuel).
The upgrade is expected to cost between $1.5-$2.2 million per vessel, suggesting a total expense in the range of $220-$320 million. Scorpio says that about two-thirds of the work will be financed.
Last week, NYSE-listed Scorpio Tankers completed a public offering of about $300 million in new shares, with one third of this amount purchased by Scorpio Bulkers. Scorpio Tankers' stock price rose about two percent on Tuesday following the scrubber announcement.
Earlier this month, OPEC predicted that a steep price spread between low-sulfur fuels and traditional high sulfur fuel oil in the post-2020 bunker market will drive a strong uptake of scrubber technology. OPEC expects that scrubber orders will take off when this price spread occurs. "The price of HSFO could potentially collapse on a temporary basis around 2020," OPEC determined. "A widening spread between LSFO and HSFO should support the decision of ship owners to install scrubbers."