Schettino's Fate in Judges' Hands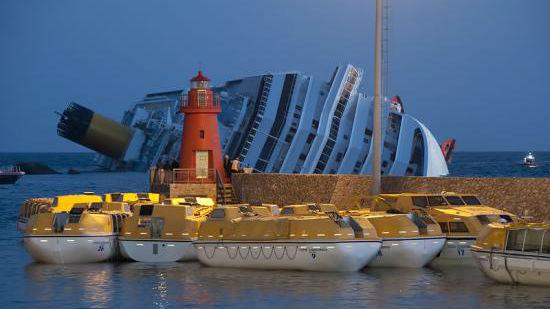 The trial of Costa Concordia captain Francesco Schettino has entered its final stages on Tuesday with the verdict of the three appointed judges expected by Thursday at the latest. Schettino is currently facing charges of multiple manslaughter and dereliction of duty in relation to the fatal January 2012 shipwreck. The prosecution and defense teams have now made their closing arguments.
Despite the anticipated large crowds, the room remained largely empty except for a small group of international press.
The prosecution reiterated its request for a sentence of 26 years and three months for the former captain, calling for a "fair punishment that reestablishes the truth concerning the tragedy of the Costa Concordia". Prosecutors are insisting the captain's failure to promptly order an evacuation of the cruise ship is the sole reason why 32 people died when the luxury liner partially capsized off Giglio island. However, Schettino's defense claims equipment problems complicated the evacuation.
According to NBC News, Schettino maintains that he was thrown into a lifeboat when the vessel suddenly rolled onto its side. His lawyers are asking for manslaughter and abandonment charges to be dropped, and argue for shipwreck with "diminished responsibility," stating that he wasn't entirely responsible at the time of the crash. Normally abandonment carries a mandatory sentence of nine years; diminished responsibility could mean just five.
Schettino will be in the courtroom to hear the verdict and will reportedly make a statement afterwards. Earlier in the trial, the infamous captain left the courtroom briefly after apparently being angered by the prosecution's denial that he had been a victim of a media witch-hunt. The prosecution also rejected claims by Schettino's defense team that their client had been isolated during the proceedings.
Survivors and victims' families are wondering if justice will actually be done if Schettino, the only defendant, is forced to the take all the blame. Five initial co-defendants - four ship officers and a Costa Cruises manager - entered a plea bargain for their role in the tragedy in 2013, resulting in no prison time.