Saudi Navy Intercepts Two Explosives-Filled Drone Boats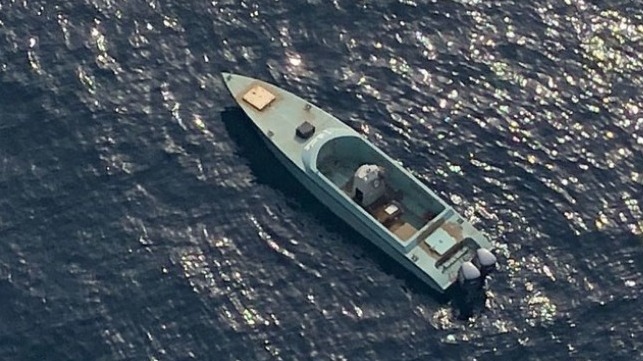 On Sunday, Saudi Arabia's navy reported that it had destroyed two remote-controlled, explosives-filled vessels that were targeting the port of Jizan (Jazan).
According to Saudi coalition spokesman Col. Turki Al-Maliki, the Saudi Navy detected the boats approaching in series, one at 0450 hours and one at 0505 on Sunday morning. They were under remote control and were rigged with explosives, he reported. Saudi forces intercepted and destroyed the vessels.
"The Joint Forces Command of the Coalition will strike with an iron fist all those who get involved with acts of terrorism, which threaten the safety of Saudi nationals, residents, economy and critical capabilities," Al-Maliki said. "Those hostile acts will not go by without holding the ones executing, plotting and planning them accountable for their actions."
The port of Jizan is located on Saudi Arabia's Red Sea coast, just north of the Yemeni border. Houthi forces control much of the coastline to the south, including the Yemeni port of Hodeidah, and have used their territory to launch multiple attacks on Saudi vessels and installations.
State-owned oil company Saudi Aramco is building a large refinery and marine terminal complex at Jizan, and it is scheduled to be finished later this year. Houthi forces attempted to attack a product terminal at Jizan with a bomb boat once before, in April 2017. That attack was not reportedly successful. A similar Houthi attack on a Saudi frigate in January 2017 resulted in hull damage and the death of two Saudi sailors. Over the past year, Saudi forces have reported intercepting multiple Houthi drone boat attacks, including a series of attempted strikes on merchant vessels in August and September.
American intelligence analysts believe that Iran is supplying the technology needed for the Houthi "bomb boats," along with many other smuggled weapons systems, from AK-47s to small ballistic missiles.
On the ground, the battle for the key Yemeni seaport of Hodeidah continues, with casualties reported on both sides. Chinese outlet Xinhua reports that Houthi forces are attempting to retake a strategic road link between the seaport and the Houthi capital of Sanaa, but have been held back by Saudi coalition airstrikes.
The UN Office for the Coordination of Humanitarian Affairs reports that Hodeidah's seaport - the primary receiving point for Yemen's food imports and aid shipments - remains open and operational. However, as of late September, an important flour milling complex in Hodeidah remained cut off and inaccessible due to the fighting, complicating the relief effort.