Salvors Recover Truckload of Diesel From Bottom of Channel in B.C.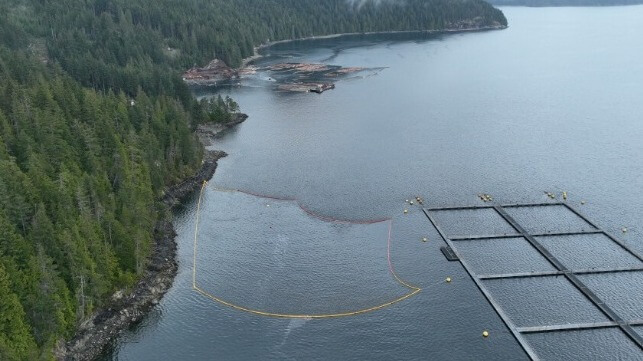 Salvors have recovered a fuel truck that rolled off a barge in Chancellor Channel, a narrow waterway north of Vancouver Island, B.C.
On April 20, the tug Risco Warrior was towing the barge Western Carrier to a remote logging camp on Hardwicke Island. In a windstorm, a truck carrying 4,500 gallons of diesel fuel rolled off of the barge and into the water.
By the next day, a response team composed of local first nations, the Canadian Coast Guard, and a spill response company were on scene to locate the tank truck. They found it quickly using an ROV. Luckily, the truck went down in about 100 feet of water towards the edge of the channel, within reach of commercial dive teams, and salvage divers set about patching a few small leaks and rigging the truck for lifting. In the interim, the responders set up a containment boom to prevent the spread of any fuel slicks, and they carried out a regular shoreline patrol to watch for signs of oiling.
On Friday evening, a salvage crew hoisted the truck to the surface of the water. Once it was accessible, they pumped the fuel off into holding tanks to lighten the load before lifting the truck clear. According to the BC Environment Ministry, this evolution was accomplished with only a minimal release of fuel during the lift. The overall total amount of fuel spilled since the truck's sinking is not yet known.
The reason for the runaway is not yet known, but the barge owner told the local Prince George Post that mechanics will be checking the truck's brakes.
The successful recovery of the truck and its contents will come as a relief for local fishing interests and first nations. Chancellor Channel is home to a rockfish conservation area, one of many designated by Fisheries and Oceans Canada in the maze of channels north of Discovery Passage.