Salvors Prepare to Move the Sewol to Shore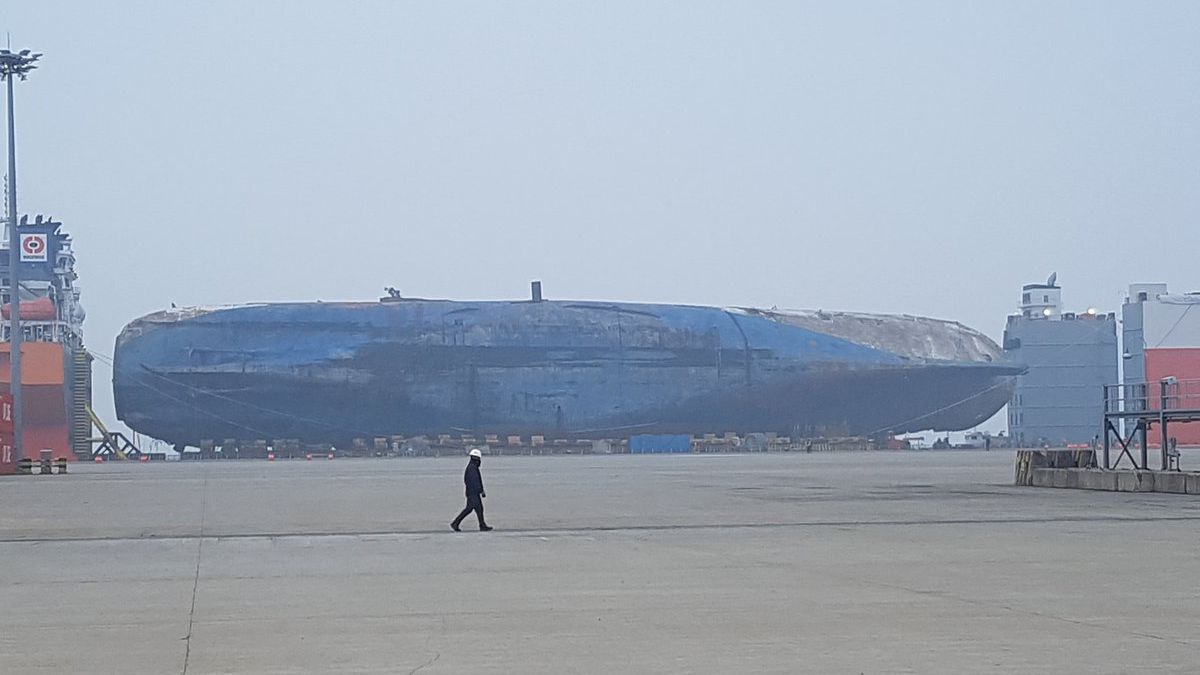 Salvors are preparing to move the wreck of the ferry Sewol from the deck of a heavy lift ship onto the pier at Mokpo, South Korea, the final step in a multi-year effort to recover the vessel and the bodies of nine missing victims.
The record-breaking salvage operation took months longer than expected due to difficult conditions below the surface. Divers with Shanghai Salvage Company prepared the Sewol for hoisting by placing 33 massive lifting beams beneath the hull, an operation that required partially lifting the vessel twice, once at the stern and once at the bow. Once all the preparations were complete and surface conditions were favorable, they connected the lifting beams to two barges and used strand jacks to raise the wreck off the bottom. A semi-submersible heavy lift ship brought the Sewol back to shore at Mokpo.
The salvors have cut holes in the hull of the wrecked vessel in order to drain it, and workers are searching the effluent for any personal effects or human remains. So far, they have identified 100 objects that belonged to passengers, along with 20 pieces of animal bone fragments. (Among other items, workers reportedly found a passport and a credit card belonging to Lee Joon-seok, the Sewol's captain, who is serving a life sentence for murder through willful negligence.)
Lee Cheol-jo, the leader of the government's salvage team, told media Wednesday that engineers will try to move the vessel to shore on Thursday, despite the fact that the vessel has not been emptied as much as desired. The hull contains a substantial amount of mud, and the drain holes have been less effective than salvors had hoped. "We will run a test operation after maneuvering 480 transporters, which can carry up to 40 tons each, under Sewol," Lee told reporters. If more transporters are needed to carry the load, hundreds more are waiting on standby.
The team is operating under time pressure: getting the ship mounted on hundreds of modular transporters and shifted across to the dock is expected to take at least three days, and the government says that optimal surface conditions will end on Monday.
Salvors return home
The 2,500 tonne floating crane Dali and her crew have returned to Shanghai after 590 days operating in support of the Sewol salvage. Jiang Yan, the deputy director of Shanghai Salvage, told Xinhua that the operation was "extremely difficult" due to poor visibility and unpredictable currents. Divers continue to search the Sewol's wreck site for the remains of the nine missing victims, and 90 of the firm's employees are still on scene with the dive support ship Shen Qian Hao.