Salvage Tug USNS Salvor Inaugurates U.S. Navy's Indian Repair Agreement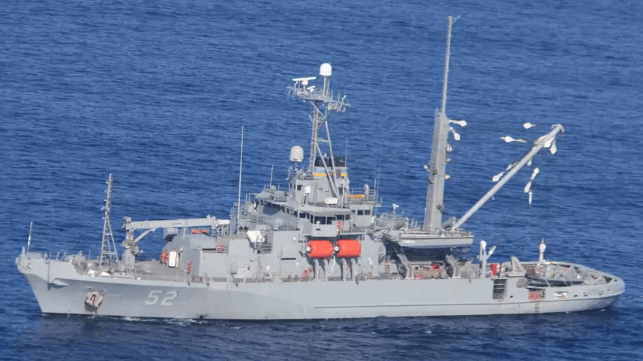 The U.S. Navy continues to deepen its relationship with the repair yard of Larsen & Toubro at the port of Tamil Nadu, India, with the arrival of the auxiliary rescue ship USNS Salvor.
Salvor is the first MSC ship to arrive after the signing of a five-year Master Ship Repair Agreement (MSRA) between the U.S. Navy and Larsen & Toubro. L&T has worked on Military Sealift Command vessels before, including USNS Charles Drew and USNS Matthew Perry, but the certification allows L&T to bid on MSC ship repair contracts throughout the 7th Fleet area of responsibility. It will also speed up contracting processes, according to U.S. Consul-General in Chennai Judith Ravin. The agreement is also a sign of the deepening ties between Washington and New Delhi, and USNS Salvor's arrival made national headlines in India.
"It's an enabling agreement and this is a great beginning," said L&T head of defense Arun Ramchandani in a statement.
The MSRA with L&T is also part of a broader trend: the U.S. Navy continues to struggle with domestic ship repair capacity, and the Biden administration is reportedly considering a naval ship repair agreement with commercial yards in Japan, a close ally with a sophisticated shipbuilding industry. According to Nikkei Asia, U.S. Ambassador to Japan Rahm Emanuel is also promoting potential repair partnerships with yards in the Philippines, South Korea and Singapore.
Salvor is a 1986-built combat salvage tug, the last of the Cold War-era Safeguard-class. She is equipped for beach stranding response, emergency hull repair, subsea lifting, dive operations and ROV deployment. In 2007, she was decommissioned from Navy service and transferred to Military Sealift Command (MSC) as a civilian-crewed auxiliary. High-profile missions have included refloating the oil tanker Exxon Houston in 1989, towing USS Port Royal off a reef in Hawaii in 2009, and responding to the sinking of the ROKS Cheonan in 2010. She has also deployed many times to recover lost military aircraft and equipment from the bottom.