Sailor Stranded on Deserted Island in the Bahamas for Three Days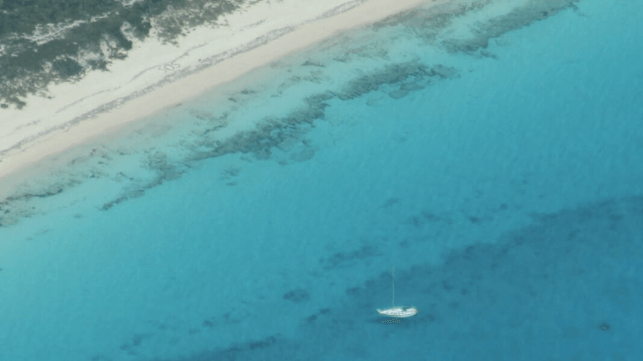 On Friday, the U.S. Coast Guard rescued a man who had been stranded on an uninhabited island for three days after his sailboat was disabled.
The sailor was first spotted by an auxiliary aircrew attached to Coast Guard Air Station Miami. (Auxiliary aircrew members are private civilian pilots who volunteer their time and aircraft for Coast Guard missions, including search and rescue.) The volunteers were flying over Florida Strait when they spotted signal flares from a small sailboat near Cay Sal, a remote island about 100 nm due south of Miami.
Though part of the Bahamas, Cay Sal is located on the south side of the Florida Strait, closer to Cuba than to Nassau. It is abandoned, but Cuban refugees are often stranded there, and the Bahamas has a standing arrangement with the Coast Guard for regular overflights to look for any potential survivors in need of rescue. The auxiliary aircrew reported the sighting to Coast Guard Sector Key West for a response.
An Air Station Miami Ocean Sentry aircrew flew out to the site to establish contact and drop basic supplies, including food, water and a radio. The man told the aircrew he'd been stranded for three days after his vessel became disabled during a voyage.
Sector Key West watchstanders diverted Coast Guard Cutter Paul Clark's crew to retrieve the man from the island, and the cutter delivered him safely to the Royal Bahamas Defence Force for further care. He was in good health.
"We're proud to have saved this man's life. This case serves as a perfect example of why you must have the proper safety equipment on your vessel," said Petty Officer 3rd Class Dev Craig, a Coast Guard Sector Key West watchstander. "Without seeing the flare, the case may not have had a successful outcome."