SAFE Designs Autonomous Survey Boat for Jones Act Wind Market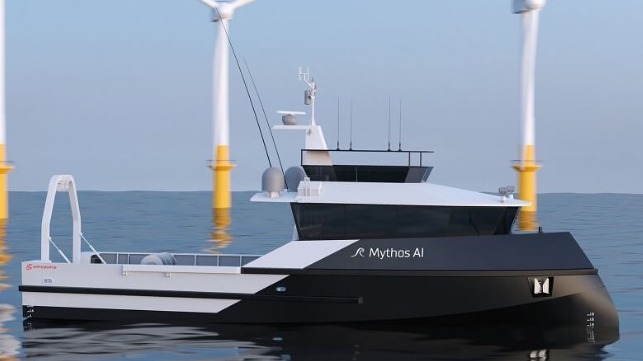 Washington shipbuilder SAFE Boats has unveiled its design for a new self-driving, turnkey hydrographic survey vessel, created in collaboration with autonomy startup Mythos AI. The vessel would be Jones Act compliant and purpose-built for the needs of U.S. offshore wind.
Nauticus, Ocean Infinity and Reach Subsea have announced plans to build and charter out similar vessels as autonomous survey solutions, packaged with shoreside services. However, SAFE Boats believes that Merlin is unique: it is the industry's first geophysical vessel that can be acquired directly from the builder with a fully integrated geophysical sensor suite designed around U.S. offshore wind. Sonar builder Echo81 participated in design development and would supply the sensors and aftermarket support.
The vessel will also carry navigation technology created by Mythos AI, a maritime autonomy provider. Mythos AI's driver-assist systems are designed to automate geophysical workflows so that skilled hydrographers and crew are not required to be onboard the vessel, according to SAFE Boats. As the technology advances, Mythos AI plans to provide a "push-button, long endurance, dock-to-dock, self-driving and self-surveying solution for offshore wind."
SAFE Boats has already delivered one smaller hydrographic survey boat for Mythos AI for use in trials, demonstration and testing.
SAFE Boats is known best for its military and law enforcement boatbuilding operations, which date back to 1996. It has 2,300 boats in service in 50 countries worldwide, including Ukraine, Nigeria, Colombia and Tunisia.