S. Korea's Big Three Issue Restructuring Plans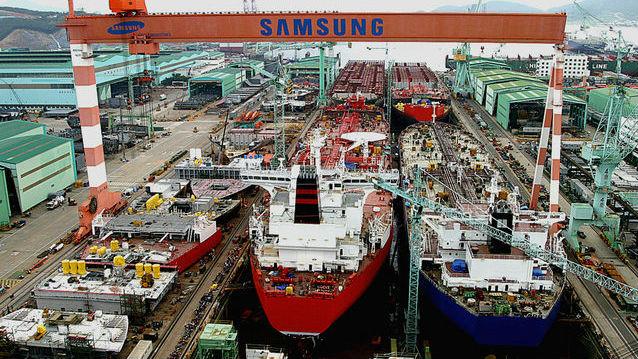 Samsung Heavy Industries and Hyundai Heavy Industries have received approval from creditors for their self-rescue restructuring plans, South Korean media sources report.
Hyundai Heavy intends to sell real estate, stock, holdings and non-core businesses for balance sheet improvements totaling to $3 billion. The firm also plans headcount reductions. It has been engaged in restructuring for some time, and its efforts began to bear fruit in the first quarter, when it returned to profitability for the first time in more than two years.
Samsung Heavy Industries' creditor group, led by Korea Development Bank, has provisionally approved a $1.25 billion restructuring plan for the firm. SHI's plan reportedly includes similar measures to HHI's; the information was derived from confidential industry sources, and details on staff reductions and asset sales were not immediately available.
Daewoo Shipbuilding and Marine Engineering, the most troubled of South Korea's Big Three shipbuilders, has announced plans to trim wages by 20 percent and lay off executives. It has announced workforce reductions of 2,300 employees by 2019 and has recently signaled an intention to move up the timetable for staff cuts; Daewoo also intends to sell its Seoul headquarters building to raise funds.
The "Big Three" reported combined net losses of $4.9 billion in 2015. The shipping downturn has hit Korean shipbuilders hard: shipbuilding orders have declined markedly as market conditions have worsened in offshore, bulk and container shipping, and the yards secured only a handful of orders between them in the first months of 2016. The effects are expected to intensify: they still have the world's largest backlogs, but without new orders coming in, the yards will eventually have fewer ships to build. Analysts Clarksons Research expect that ordering activity won't fully recover until 2020; South Korea's government is already discussing ways to shore up state-backed creditor banks like KDB and KEXIM in anticipation of the yards' future needs for large-scale assistance.
The effects could be especially pronounced for employees: about 200,000 people work in shipbuilding in South Korea. Geoje, a port city home to both Daewoo's Okpo yard and Samsung's Gohyeon facility, expects as many as many as 20,000 shipbuilding layoffs by next March if business conditions do not improve.