Russia's First Yasen-Class Submarine is Combat-Ready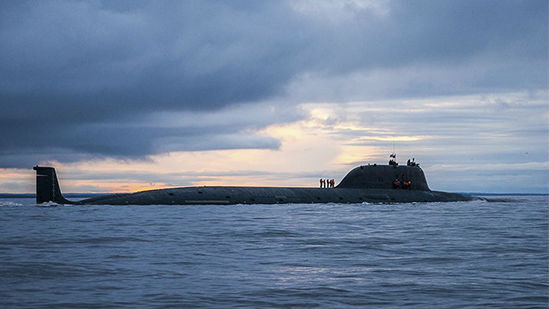 Russia's first Project 885 Yasen-class submarine, Severodvinsk, is now combat ready.
The vessel and crew have undergone a range of tests including deep-water submergence and the use of the navy's submarine rescue vehicle.
The 120-meter (390-foot) Severodvinsk was commissioned in December 2013 and is the first of up to six in its class (sometimes also referred to as Graney, Granay or Severodvinsk class).
The next, Kazan, is expected to be launched later this year. Novosibirsk, Krasnoyarsk and Arkhangelsk are under construction.
Severodvinsk is speculated to have cost around $1.6 billion.
Armaments include 24 vertical launch tubes for various cruise missiles including the P-800 Oniks which have a range of about 300 kilometers (186 miles). The submarine also has eight 650-mm torpedo tubes for torpedoes and anti-ship missiles.
The submarine has a crew of about 90, suggesting a high degree of automation, although some sources put the number as low as 50. U.S. Virginia-class submarines have a crew of 134.
The hull is made of low magnetic steel, and the vessel has a spherical bow sonar. According to Western intelligence estimates, the Severodvinsk is probably only slightly quieter than the improved Akula-class submarines it is superceding. However, it has expanded missions with better anti-submarine capabilities including the first Russian spherical sonar.
The new multipurpose submarines are all being built at the Sevmash yard in northern Russia. Sevmash is the largest ship-building complex in Russia, and the only shipyard in the country to focus on building nuclear submarines for the navy.
General characteristics
Displacement: Surfaced: 7,700–8,600 tons, Submerged: 13,800 tons
Length: 120 meters (390 feet)
Beam: 15 meters (49 feet)
Propulsion: 1 x KPM type pressurized water reactor
Speed: Surfaced: 20 knots, Submerged (silent): 28 knots, Submerged (max): 35 knots
Range: unlimited except by food supplies
Test depth: 600 meters (2,000 feet)
Complement: 90 (32 officers)