Russian Warships Gather off Syria for Assault on Idlib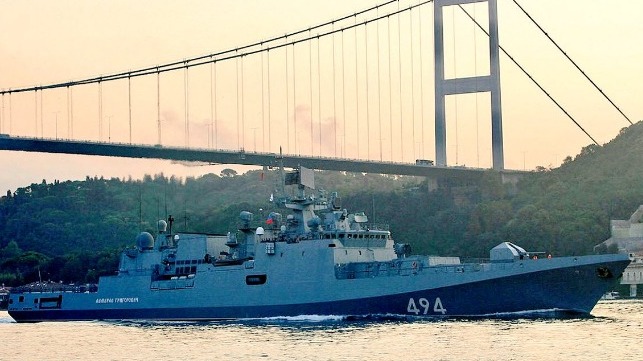 The Russian Navy is building up its presence in the Mediterranean in advance of the Syrian government's final assault on Idlib province, the last rebel holdout in the long-running Syrian Civil War. At least ten Russian surface vessels and two submarines have been deployed off Tartus, including the guided missile frigates Admiral Grigorovich and Admiral Essen, the cruiser Marshal Ustinov and the destroyer Severomorsk. Several more vessels are on the way.
It is the largest buildup in the region since the battle for Aleppo, and Russian media described it as the biggest concentration of warships off Syria since the start of the war. It is believed to be intended as a deterrent to the U.S. Navy: the Trump administration has warned the Russian-backed government of Bashar al-Assad against any further use of chemical weapons as it prepares to attack Idlib, and Moscow may be sending naval reinforcements in order to ward off potential U.S. strikes on Syrian military positions.
"We will not speculate on the intention of the Russian fleet, but it is important that all actors in the region exercise restraint and refrain from worsening an already disastrous humanitarian situation in Syria," said NATO spokesperson Oana Lungescu in a statement to Haaretz.
DefenseNews observes that the nuclear-powered battlecruiser Pyotr Velikiy (Peter the Great) is notably absent from the flotilla. During the battle for Aleppo, the Velikiy brought considerable surface warfare capability to the theater - including her 20 P-700 "Shipwreck" supersonic anti-ship missiles, each weighing in at 15,000 pounds and carrying half a ton of explosives.