Three Russian Shipyards Sanctioned Over Kerch Strait Incident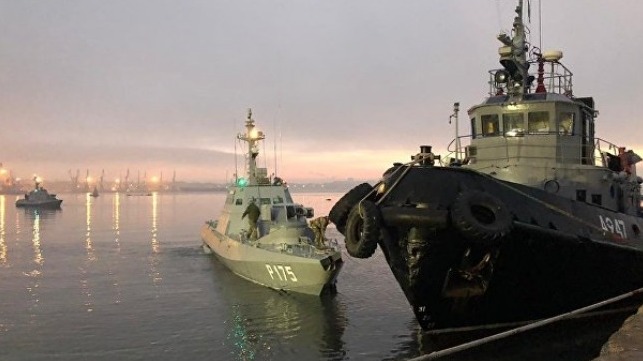 Canada, the United States and the EU have imposed new sanctions on Russian entities in response to the Kerch Strait incident, including three shipyards.
The sanctions are a response to the encounter between Russian border forces and three Ukrainian Navy vessels at Kerch Strait in November. When these vessels approached the Strait, Russian forces shot at, rammed and seized them, then took their crews into custody. Russian prosecutors have charged the ships' crewmembers with civilian criminal offenses, including "illegal border crossing," and they are being detained near Moscow. The international community does not recognize a Russian maritime "border" in or near Kerch Strait, and the U.S. and EU assert that these sailors are prisoners of war, not criminals.
"Russia's provocations in the Kerch Strait and its illegal invasion and ongoing occupation of Crimea will not go unchecked," said Canadian minister of foreign affairs Chrystia Freeland. "We call on Russia to immediately release the 24 detained Ukrainian servicemen and return the seized vessels. Russia must allow free and unhindered passage through the Kerch Strait and the Sea of Azov."
The Canadian, American and European lists differ, but the new measures cover more than 100 individuals and a dozen companies The American sanctions affect several shipbuilders and suppliers to the Russian Navy, including Yaroslavsky Shipbuilding Plant, Zelenodolsk Shipyard Plant, hydroacoustic system manufacturer AO Konstern Okeanpribor and diesel engine maker PAO Zvezda. Zelenodolsk Shipyard is building Russia's new Karakurt class corvettes, with engines from PAO Zvezda, and Yaroslavsky Shipbuilding has built vessels for Russia's Federal Security Service (FSB).
The U.S. Treasury's sanctions list also covers LLC Novye Proekty, an offshore oil and gas firm which holds an (allegedly illegal) exploration license on Crimea's Black Sea continental shelf from Russian authorities. The Crimean shelf is believed to hold significant potential for new petroleum discoveries, and Novye Proekty's lease area holds estimated reserves of about eight million tons of crude oil and 1.4 billion cubic meters of natural gas.
Canada's sanctions list also includes JSC Zaliv Shipyard, which was allegedly seized by Russia during the annexation of Crimea. Its former owners say that it is now under the control of Russian-aligned Crimean entities. "Currently, representatives of the legitimate government of [Zaliv Shipyard] are not allowed to perform their functions, completely blocked manufacturing, financial, economic activities of the Enterprise," the owners assert.