Russian Battlegroup Arrives Off Syria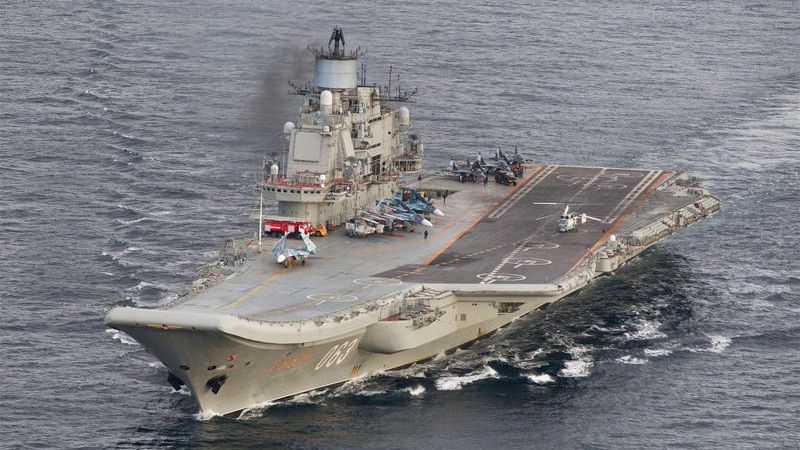 The carrier Admiral Kuznetsov, flagship of the Russian Navy, has arrived off the coast of Syria.
Her air wing is widely expected to participate in ongoing airstrikes in the siege of Aleppo. Western diplomats and UN officials have alleged a pattern of war crimes in Russia's air campaign against rebel groups in the city, and have called for a halt in hostilities.
The nuclear-powered cruiser Pyotr Velikiy (Peter the Great), the destroyer Vice Admiral Kulakov, the ASW vessel Severomorsk and several naval auxiliaries accompany the Kuznetsov.
In addition, Russian media reported Thursday that the Black Sea Fleet's guided missile frigate Admiral Grigorovich will be joining the Kuznetsov. The Grigorovich is equipped for a land attack and air defense role. NATO informed media on Thursday that it is also tracking three Russian submarines that have been deployed to the waters off Syria, all equipped with land-attack cruise missiles.
Many analysts expect that the Kuznetsov's role in any airstrikes would be limited; the vessel's jump-ramp system is not adequate to launch its fighter-bombers fully fueled and loaded, and they must take off light and return early. Video of launch and recovery aboard the Kuznetsov (above) shows her fighters launching without external stores.
However, a defense analyst told TASS that helicopters launched off the Kuznetsov's deck will test a new long-range anti-tank guided missile against ground targets.
Russian diplomats have repeatedly said that the fleet is not off of Syria in order to attack Aleppo, and that its presence represents a normal state of affairs.
But on Wednesday, General Valery Gerasimov, chief of the Russian military's general staff, warned rebel groups that they should take advantage of a 10-hour voluntary ceasefire and flee the city. The ceasefire will be in effect 0900 hours to 1900 hours Friday. Western observers are concerned that Russian and Syrian government forces are preparing for a sustained assault on rebel-held areas after it ends.
Rebel leaders have refused to depart the city, and their fighters stepped up attacks on government positions Thursday in advance of the pause.