Russia "Dropping Explosives" in Black Sea Shipping Lanes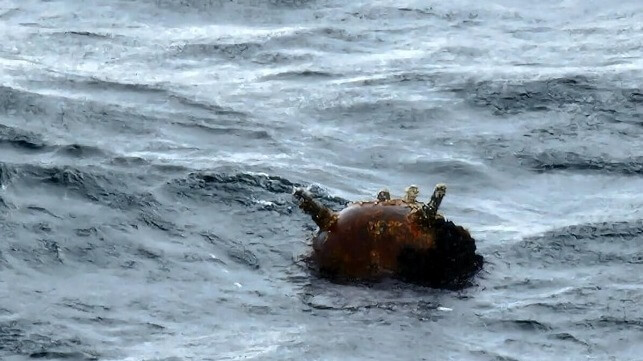 On Wednesday, the Ukrainian military confirmed that Russia is air-dropping explosive munitions into the sea lanes linking the Odesa region with the open sea.
"Occupants continue to terrorize civilian shipping routes in the Black Sea by dropping explosives along the alleged route of civilian ships. Over the past day, three such incidents have been recorded," said Ukraine's Operational Command South in a statement. "However, the functioning of the navigation corridor continues under the auspices of the defense forces."
For the past month, Western intelligence sources have warned of Russian plans to mine the corridor that Ukraine uses to ship its abundant exports of grain to world markets. The attractiveness of mines, according to UK intelligence, is that the origin of the strike would be ambiguous and Russia would be able to falsely lay the blame on Ukraine.
Last week, Operational Command South confirmed that Russian aircraft had "dropped four unidentified means of impact (probably bottom mines) in the Black Sea in the direction of navigation corridors of civil shipping."
The mining of the waterway led to reports that Ukraine was temporarily suspending shipping on the route. Ukraine's government quickly denied these claims and said that transits continued uninterrupted. "The information regarding the cancellation or unscheduled stoppage of the temporary Ukrainian corridor . . . is false," top official Oleksandr Kubrakov said in a social media post last week. "All available routes established by the Ukrainian Navy are valid and being used by civilian vessels."
World grain markets have not been affected in a lasting way by these developments, and benchmark wheat futures have fallen over the same period, driven down by anticipations of a better harvest in South American growing regions.
Russia has attempted to blockade the ports of Ukraine's Black Sea coast since the beginning of the full-scale invasion in February 2022, with mixed success. Last year, under international pressure, it agreed to a partial lifting of the embargo for grain bulkers, effective in August 2022. It then allegedly obstructed the corridor through procedural slowdowns, then fully suspended the deal in July 2023. Recently, Ukraine has established its own corridor; using drone boats, missiles and special operations forces, it has attempted to remove the Russian Navy from the Western Black Sea, and has had enough success that merchant vessel traffic has returned to the Odesa region.