Russia and Norway Hold Tabletop Cruise Ship Rescue Exercise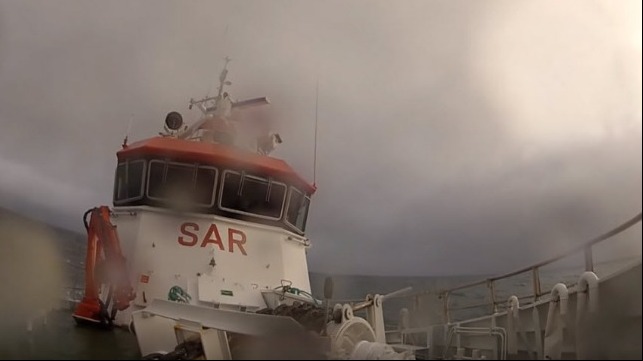 Last week, around 80 people from Russian and Norwegian emergency agencies held a tabletop exercise examining how to respond to an Arctic cruise ship emergency.
The meeting, held in Kirkenes, Norway, considered the situation of a fire occurring on a 1,000-passenger ship sailing between Tromsø and Murmansk. The exercise considered evacuation procedures and the location of search and rescue resources such as helicopters, boats and fire-fighting equipment. Participants also considered diplomatic approvals, who would be in charge and how language differences could be overcome.
Even though the relationship between Norway and Russia can be tense at times on a political level, the long-standing and good cooperation about search and rescue operations on both Norwegian and Russian side of the border in the Barents Sea continues, said Bent Ove Jamtli, Departmental Director of the Joint Rescue Coordination Centre Northern Norway in a press release.
Thomas Nilsen reports in the Independent Barents Observer that Franz Josef Land and Svalbard are among the farthest locations in the world from possible help. If people are in the water, every minute counts even when dressed in survival suits, he says, but mainland Russia and Norway are at least 36 hours sailing away from the two Arctic archipelagos.
The Polar Code requires ship operators to provide lifesaving equipment that ensures a minimum of five days survival time. However, one participant indicated their belief that there are no survival suits or life rafts that could keep all elderly people alive for five days.
Cruise companies such as Poseidon Expeditions, Aurora Expeditions, Ponant and Hurtigruten are among the companies that have voyages planned in the Arctic region. The head of the Joint Rescue Coordination Centre of Northern Norway, Tone Vangen, has encouraged cruise ships to sail in pairs when heading as far north as Svalbard and Franz Josef Land. Cruise vessels sailing to Svalbard are required to carry a Norwegian pilot, and ships with more than 200 passengers are not allowed to sail the Hinlopen strait and other waters east of Spitsbergen.
The participants are planning a live exercise in Iceland later in the year.
Earlier this month, the cruise industry, authorities and researchers announced a new ARCSAR network to boost Arctic search and rescue capabilities. The ARCSAR network is led by the Joint Rescue Coordination Center North-Norway, and Jamtli will head the project. The Association of Arctic Expedition Cruise Operators (AECO) is one of 21 international partners from Finland, Sweden, Norway, Iceland, Faroe Islands, the U.S., Canada, Russia, Italy, Germany, U.K., Ireland and New Zealand.