Royal Navy Sends Small Minesweeper to Escort Russian Subs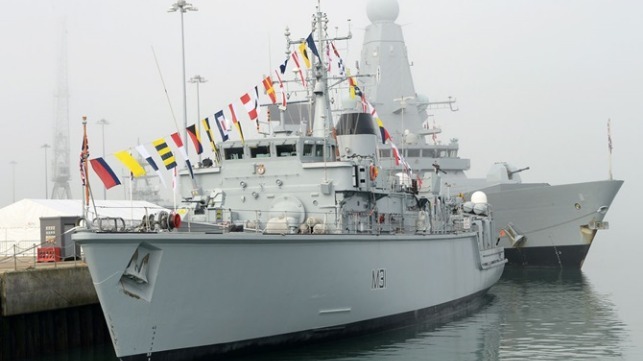 According to newly published reports, the Royal Navy dispatched the 200-foot minesweeper HMS Cattistock to escort two Russian Kilo-class submarines through the English Channel last August. The service regularly escorts Russian Navy vessels when they pass near British shores, but normally it dispatches a front-line surface combatant or a frigate to perform the task.
The 1981-built Cattistock is a Hunt-class mine countermeasures vessel of fiberglass construction, and she weighs in at 750 tonnes, about one-tenth the displacement of the Royal Navy's Type 45 destroyers. She is armed with a 30mm cannon, along with two miniguns and several machine guns for defensive purposes, but she is not equipped for anti-submarine warfare.
In a statement, a Royal Navy spokesperson said that the Cattistock was the "most appropriate vessel for this particular task at that time." Earlier this month, the frigate HMS Westminister was dispatched to escort four Russian vessels in the Channel, but UK media sources report that she was unavailable for this particular mission.
"This is the first time this has ever happened. We have frontline warships for a reason — and one is defending British waters," one defense source told The Sun. "This deployment [of the Cattistock] is the symptom of a very stretched Navy. It's deeply embarrassing."
Admiral Lord West of Spithead, former First Sea Lord and Chief of the Naval Staff, warned that the Cattistock's tasking was a sign of the declining capabilities of the fleet. "We were a great maritime nation, we still remain a maritime nation, but we are now moving into an area of great danger because we have such a lack of assets," he warned.
The availability of Britain's submarine force has also been limited due to maintenance issues. In early 2017, UK media reported that all seven of the Royal Navy's nuclear-powered attack submarines were "non-operational," with six undergoing repairs and one out on sea trials. If accurate, the reports suggested that the Royal Navy had no submarine assets for tracking Russian naval activity near Britain. The UK Ministry of Defense declined to comment on the news.
The concerns regarding availability may be somewhat alleviated later this year with the delivery of the HMS Audacious, the fourth Astute-class attack submarine built by BAE Systems. Early vessels in the class were troubled by a series of technical problems, according to reporting by The Guardian and the Telegraph. The Ministry of Defense has denied the reports.