Rickmers Group Reaches Restructuring Agreement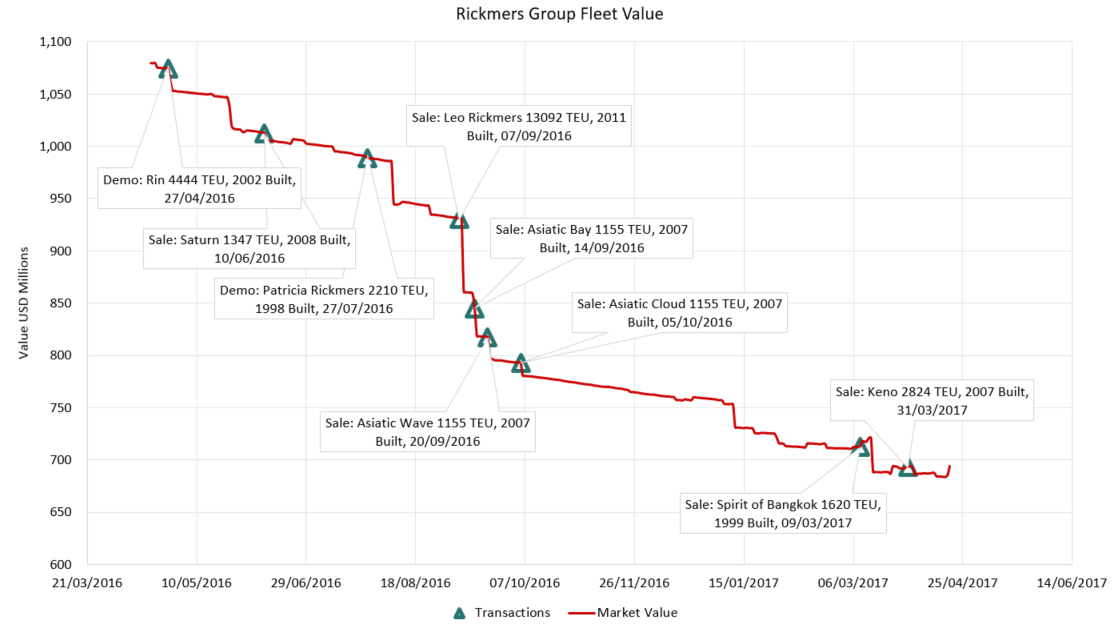 On Wednesday, Singapore-based shipping firm Rickmers Holding announced a debt restructuring agreement for subsidiary Rickmers Group, thanks in large part to a support package from owner Bertram R.C. Rickmers.
The news is a surprising reprieve for the struggling shipowner, which announced last week that it would wind up its Rickmers Maritime Trust division as losses mounted in a soft container ship market. Day rates have recently improved, boosting the fortunes of container ship owners and operators, and a new audit from an independent reviewer has tentatively concluded that the firm can provide more value to creditors as a going concern.
Under the new arrangement, Bertram R.C. Rickmers will reduce his stake in Rickmers Group from 100 percent to 24.9 percent, allowing key creditors – HSH Nordbank, bondholders and potentially one additional bank – to take the balance of 75.1 percent of the firm's shares. He will also give Rickmers Group new cash support totaling $10.7 million, waive licensing fees for four years and obtain a back-up loan facility of an additional $10.7 million to meet any future liquidity requirements. These contributions are in addition to a $14 million cash infusion that Mr. Rickmers provided last year.
The arrangement provides for creating a new holding company, LuxCo, which would take over a bond and part of the loan from HSH Nordbank. LuxCo would also become the majority shareholder, with a 75.1 percent interest, and a joint representative would be authorized to sell those shares to recoup funds for Rickmers' creditors. It is based on the assumption of additional relief from other creditors, including the deferral of repayments, the release of pledged funds and a reduction of interest margins.
According to VesselsValue, Rickmers Group is presently worth $740 million. Its fleet is mostly made up of smaller container vessels, with 35 ships ranging in size from Feedermax to New Panamax, and it also has has two vehicle carriers and four MPPs. Over the last year its fleet value has fallen by about one third, reflecting the oversupply and slow demand growth of the market. It sold the business operations of its Rickmers-Linie division to Zeaborn in February.