Report Urges Careful Planning for U.S. Navy's Next Frigate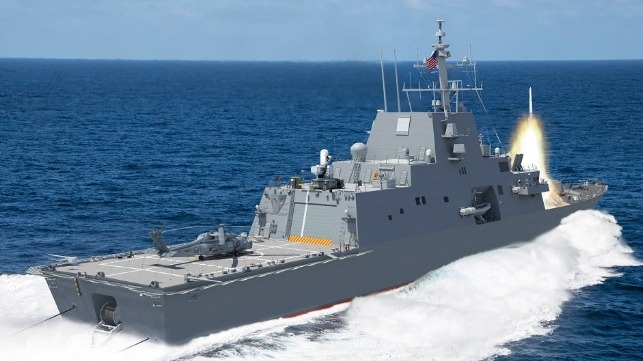 In a recent report, the Congressional Research Service raised questions about the thoroughness of the Navy's procurement process for the next class of frigates. The Navy is moving quickly to replace the build programs for the two Littoral Combat Ship variants with a new frigate, the FFG(X). The service has placed priority on fielding a conservative frigate design on a rapid timeline, and CRS expressed concern that the Navy has not fully examined its needs before creating specifications.
The current LCS variants differ from traditional surface combatants in their construction and armament, and critics suggest that they would have limited survivability in high-level combat. In addition, both versions have sustained a series of mechanical casualties during operation. Given these concerns, the Navy has restructured its plans for crewing and deploying its LCS squadrons, and it intends to procure the FFG(X) instead of additional LCS orders beginning in 2020.
The Navy's specifications for the FFG(X) reflect a more conservative approach than it took on the LCS. FFG(X) will be based on an existing hull design - an upgraded LCS, or a foreign warship like Italy's FREMM or Spain's F100. Rather than LCS' modular "mission packages," it will have a fixed suite of armaments. It will have no new technologies, and will incorporate only existing systems or systems that are currently under development for other Navy programs.
In its report, CRS raised concerns about the methods the Navy used to reach assess its needs for the FFG(X) - specifically, whether it performed a "rigorous analysis" or relied instead on "the subjective judgments of Navy and DOD leaders."
"Subjective judgments can be helpful, particularly in terms of capturing knowledge and experience that is not easily reduced to numbers, in taking advantage of the "wisdom of the crowd," and in coming to conclusions and making decisions quickly," CRS wrote. "On the other hand, a process that relies heavily on subjective judgments can be vulnerable to groupthink . . . [and] can overlook counterintuitive results regarding capability gaps and mission needs."
The report noted that the Navy failed to perform a formal, rigorous analysis during the run-up to the LCS program. This failure "can be viewed as a root cause of much of the debate and controversy" and the LCS program's ultimate restructurings, CRS asserted - a cautionary tale for the service's next small surface combatant.
Alternatively, a thorough examination of future threats and capability needs could lead to a different set of specifications - or even to something other than a frigate. Potential alternatives could include "destroyers, aircraft, unmanned vehicles, or some combination of these platforms," according to CRS.