Report: UK Gov't Likely to Cancel Funding for Type 32 Frigate Program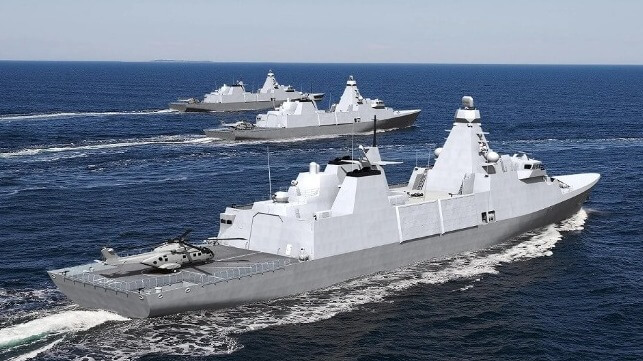 The government of new UK Prime Minister Rishi Sunak is expected to suspend its funding plans for the Type 32 frigate, a follow-on vessel class which was to succeed current frigate models in future production. Scotland's naval shipbuilders had expected to secure $3 billion for the five-ship project, which would have kept their production lines hot through the second half of the decade.
Babcock's Rosyth yard and BAE's River Clyde yards are currently building the Royal Navy's future Type 31 and Type 26 frigates, respectively. The Type 31 is a general-purpose multirole surface combatant, while the Type 26's capabilities are focused on anti-submarine warfare. Those orders will begin to wind down towards the end of the 2020s, and the fate of more than 1,000 shipyard workers may depend on whether the follow-on Type 32 gets built.
The Type 32's design and role are not yet fully defined, but the Royal Navy conceived of the vessel as an advanced general-purpose frigate capable of supporting light amphibious task forces. The service hoped to build new technology into the platform, to incude vessel autonomy.
Defense officials told The Times that Chancellor Jeremy Hunt is likely to cancel the Type 32 during an upcoming budget review, one of a series of cuts intended to balance government ambitions with the reality of inflation.
The government has challenging choices ahead for procurement, but the decision to build or not build warships is also deeply political: it affects thousands of domestic jobs, often in regions where work is needed most. In Britain's case, naval shipbuilding is part of the political arrangement between Scotland and the rest of the UK, and subtracting shipyard work could boost sentiment for Scottish independence, one shipyard source told the UK Defence Journal.
The funding for the Type 32 could still be reinstated in future years, even if it is zeroed out for budgetary reasons now. "The Ministry of Defence habitually [moves] money from one budget allocation to shore up another more immediate overspend, only to subsequently reflate the donor budget at a later date," Scottish National Party MP Dave Doogan told The Courier. "It's a dysfunctional way of accounting but they seem wedded to it. I very much hope that is what the Admiralty are doing with Type 32 because canceling this work would be catastrophic."