Report: U.S. Offshore Wind a $70 Billion Opportunity for Supply Chain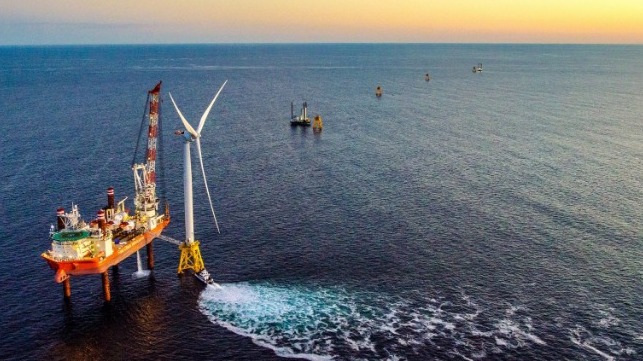 The U.S.'s burgeoning offshore wind industry, projected to generate nearly 20GW of power in seven East Coast states by 2030, presents a nearly $70 billion CAPEX revenue opportunity to businesses in the U.S. offshore wind supply chain.
That's according to a new white paper by the Special Initiative on Offshore Wind (SIOW) with analysis by the Renewables Consulting Group. Among key industry components required for such a utility-scale build-out of U.S. offshore wind include:
• More than 1,700 offshore wind turbines and towers $29.6 billion
• More than 1,750 offshore wind turbine and substation foundations $16.2 billion
• More than 5,000 miles of power export, upland and array cables $10.3 billion
• More than 60 onshore and offshore substations $ 6.8 billion
• A wide range of marine support, insurance and project management activities $ 5.3 billion
In addition to the 1.6GW of offshore wind farms already contracted to supply power, contracts are expected to be signed for approximately 17GW of additional projects as a result of state commitments in the period 2020-2030. This brings the total forecast amount of contracted offshore wind power between 2020 and 2030 to 18.6GW. The study details these rising state commitments through 2030: New York, 7.7GW (9GW by 2035), New Jersey, 3.5GW, Massachusetts, 3.2GW, Connecticut, 2GW, Maryland, 1.2GW, Rhode Island, 1GW, and Virginia, 12 megawatts.
"America's offshore wind industry is taking off, and what people see now is just the tip of the iceberg," said Stephanie McClellan, study author and Director of SIOW, at the University of Delaware.
Randall Luthi, President of the National Ocean Industries Association (NOIA), said: "NOIA has long advocated for all-of-the-above energy and new offshore energy growth in America. Our members look forward to participating in the massive opportunity presented by offshore wind."
The first U.S. offshore wind farm was commissioned off Block Island, Rhode Island (30MW) by Deepwater Wind in 2016. Gulf Island Fabrication constructed the foundations for the five turbines at the wind farm, and Bill Blanchard, Senior Vice President, Business Development, said: "Five foundations down, 1,750 more to go. That's the kind of business opportunity the offshore energy industry can get excited about."
MHI Vestas Offshore Wind plans to install 84 of its new 9.5MW turbines in Massachusetts' 800MW Vineyard Wind project, which will be America's first utility-scale offshore wind farm.
Bids in the December 2018 Bureau of Ocean Energy Management's auction for new offshore wind Massachusetts leases reached a record $405 million.