Report: Port of Colón is a New Hub for Cocaine Smuggling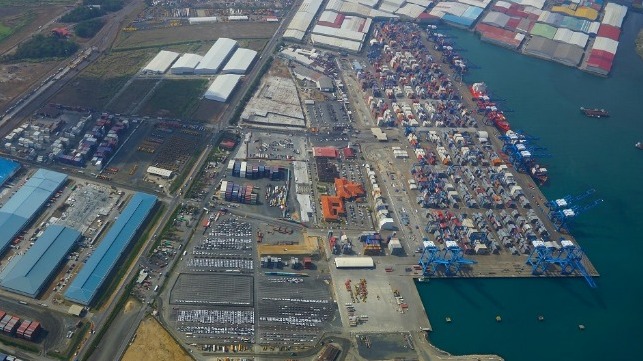 The Panamanian port of Colón has the largest container volume in Latin America, and it has become a hub for Europe-bound cocaine shipments, according to a new report. Colón judicial authorities told local outlet La Prensa that gangs headed by two alleged drug lords, Eduardo Macea and Jaime Powel, have developed a well-synchronized network to transport cocaine into Panama, get it through port security and hide it in containers bound for the EU.
The cocaine originates in Colombia, Peru and Ecuador, which have seen a spike in production over the past several years. The syndicate brings its product over the Darien Gap, the roadless jungle on Panama's southern border, by hiring couriers to carry it on foot. Once it reaches Panamanian soil, the smugglers pick it up on remote roads using four-wheel-drive vehicles, then drive it to Colón. An alternative route uses boats to carry it along Panama's coastline.
To gain access to Europe-bound containers, the gangs bribe port officials to find out information about the most promising boxes. Generally, the target containers are bound for Holland or Spain, the preferred destination ports. Smugglers then pay generous bribes to port security officers to get drugs through the gates - up to $10,000 per shipment, a large sum in a nation where the minimum wage is $2-3 per hour - and place the consignment in containers.
The steep differential between the wholesale cost of cocaine in Colombia ($1.50 per gram of 85% cocaine) and the street value in Europe (up to $90 per gram of 60-70% cocaine) means that smugglers can afford to lose multiple shipments to customs seizures and still turn a profit.
Smugglers at Colón have many containers to choose from. The port is the busiest in Latin America with 4.3 million TEU per year of traffic - mostly in transshipent cargoes - and it is rapidly growing, with 11 percent more boxes in 2018 than the year before. The port's recent success is driven by the New Panama Canal, which has allowed much larger container ships to transit between the Atlantic and the Pacific, greatly expanding opportunities for transshipment activity.
China Communications Construction Company is currently building a large container terminal at Colón on behalf of private Chinese company China Landbridge, with the specific intent of increasing transshipment volumes. If all phases are fully built out, the new Panama Colón Container Port (PCCP) will eventually have capacity of up to 11 million TEU.