Report: Carrier USS Ford's Electromagnetic Systems Still Need Work
New aircraft launch and recovery systems still break down too often, according to the Pentagon's testing office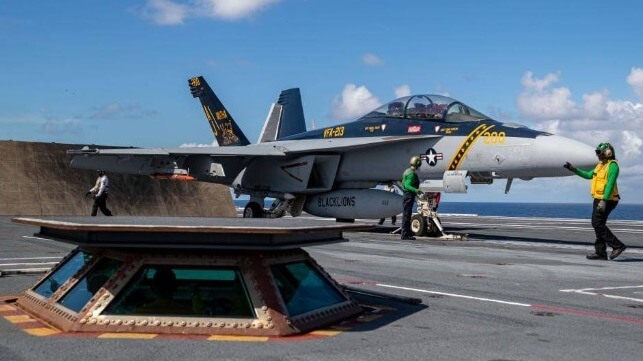 The carrier USS Gerald R. Ford (CVN 78) continues to have shakedown problems with its unique electromagnetically-actuated equipment, according to the latest report from the Pentagon's Director of Operational Test & Evaluation (DOT&E).
The office's reports have catalogued Ford's challenges in unsparing detail over the six years since the ship was delivered, and the latest review found that the vessel still has a ways to go in many of the same problem areas.
USS Ford's launch and recovery gear are electromagnetically actuated, a departure from the steam-operated Nimitz-class carriers. The new designs were developed and installed because they promised longer intervals between maintenance and higher sortie generation rates. Though the Navy remains upbeat about Ford's capabilities, these gains have proven elusive.
"The reliability of CVN 78 catapults, arresting gear, and jet blast deflectors (JBDs) continues to have an adverse effect on sortie generation and flight operations efficiency," noted DOT&E in an annual report released in mid-January. "The ongoing reliability problems with these critical subsystems remains the primary risk to the successful completion of CVN 78 [initial operational testing and evaluation]."
These launch and recovery systems are at the core of Ford's capabilities. The Electromagnetic Aircraft Launch System (EMALS) was designed to be an ultra-reliable replacement for the steam catapult, the Navy's proven system for sending fully-loaded fighter aircraft aloft. However, EMALS' reliability numbers are running "well below" expectations: in testing in March-June 2022, Ford's catapults achieved about 600 cycles between failures, a fraction of the 4,000-plus cycle design goal. The reliability numbers were even lower during another test round in September, the agency reported.
The carrier's Advanced Arresting Gear (AAG) has similar challenges. The AAG is supposed to cycle 16,500 times between failures, but in recent testing it has broken down after roughly 450 cycles.
The carrier also experienced problems with its jet blast deflectors, the deck panels that are raised to protect other aircraft during a launch. On Ford, the deflectors are electromechanically actuated, and the actuators have repeatedly broken down in service. During a carrier qualification trial in August, all four broke down, forcing the ship to return to port for repairs. Corroded fasteners caused the failures, according to DOT&E, and the problem is being addressed.
Belowdecks, the Ford's Advanced Weapons Elevator (AWE) elevator system remains a source of trouble. During a weapons onload in September, the lower stage elevators performed more quickly than those on a Nimitz-class carrier, DOT&E said; however, 109 elevator failures were reported out of about 20,000 elevator dispatches. "AWE system reliability will be critical as the Navy develops standard procedures for moving ordnance from magazines to the flight deck," noted DOT&E.
In October and November, USS Ford departed Norfolk on a short "service-retained" deployment across the Atlantic, calling at Halifax, Nova Scotia and Plymouth, UK. It was her first deployment, and her commanding officer reported that the voyage was a success. "We set the stage for operating with Ford-class technologies in a deployed environment. We completed more than 1,250 sorties, expended 78.3 tons of ordnance, and completed 13 underway replenishments – and we accomplished this because of what Ford-class aircraft carriers bring to the fight," said CO Capt. Paul Lanzilotta in a statement.
The next Ford-class carrier, the future USS John F. Kennedy, is set to deliver next year.