Reefer Market Recovering from 2015 Dip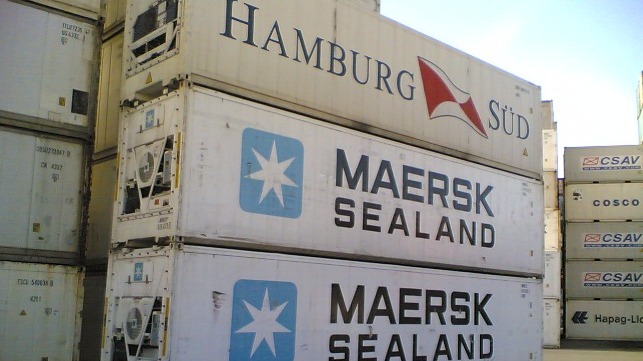 Fresh produce accounts for four percent of the world seaborne trade of dry cargoes, and Japan consumes one in three bananas, says industry analyst Dynamar in its recent report Reefer Analysis: Market Structure, Conventional, Containers.
Reefer Shipping Dip

Worldwide international trade of refrigerated perishables dipped in 2015 when volumes reduced by two percent to an estimated 144.4 million tons. The market improved in 2016 with a growth of nearly 3.5 percent, and this is expected to improve further by 4.0 percent in 2017 as trade in both conventional reefer ships and refrigerated boxes is estimated to have reached 110 million tons. 110 million tons equals some 9,100 laden conventional reefer ships of 500,000-cft average, or 3.71 million full 40-foot high cube reefer containers.
Carrier Consolidation

Huge losses forced container carriers to increase the scale of their operations through consolidation: CSAV and Hapag-Lloyd - CCNI and Hamburg Süd - China Shipping and Coscon - APL and CMA CGM - Hapag-Lloyd and UASC - Hamburg Süd and Maersk Line - and soon to happen: "K" Line, MOL, NYK as ONE and OOCL and Cosco Shipping Line.
Come April, the container ship fleets of the five consolidated container carriers plus loners MSC and Evergreen will range between 1.1 million TEU and 4.3 million TEU. These seven carrier have a combined reefer box fleet of 1,780,000 TEU, while their ships have place for 3,320,000 TEU, nearly 1.9 times the number refrigerated containers.
Interest in Logistics
Compared to containers, the conventional reefer market enjoyed a relatively peaceful 2017 with no new mergers or takeovers of substance. However, the market has seen a growing interest from carriers in logistics. Eimskip took shares in two reefer logistics operators: Belgian Mareco 80 percent and Dutch Extraco 90 percent. Italian fruit traders GF Group, owner of conventional carrier Cosiarma, and Glenalta Food merged as Orsero. Orsero successively acquired reefer logistics companies Hnos Fernández López (Spain), Frutital Firenze and Galandi (Italy). Samskip of Rotterdam bought Nor Lines after Norwegian regulators refused the same to Samskip's major competitor Eimskip.
The European Commission cleared the takeover of (Irish) Fyffes by Sumitomo Corporation of Japan. Toei Reefer Line (Japan) is facing a management buyout by five leading executives who have formed Ocean Co, bidding around $30 million. Also, Belgian Greenyard, with a market value $1 billion and handling two million tons of fresh food worldwide, expressed its interest in taking over 2013 Dole Food Company.
Containers
Some 130,000 TEU reefer containers were built from January to October 2017. This works out at around the same 160,000 TEU for the whole year as the year earlier, equal to 84,000 units and far below the volumes of earlier years. China International Marine Containers (CIMC) and Maersk Container Industry (MCI) are the main manufacturers.
The largest known orders for refrigerated boxes were placed by Hapag-Lloyd, 21,600 TEU/11,400 units, including 1,000 with controlled atmosphere technology and by MOL, 4,200 TEU/2,200 units, including 2,000 with controlled atmosphere technology.
Operating Challenges
Baltic Reefers took over from Seatrade as the top conventional reefer ship operator with a capacity share of 12.4 percent.
At the start of 2017, Seatrade Chartering launched Meridian, a reefer-heavy full container service between North Europe and New Zealand, returning via South America West Coast (Peru) and U.S. East Coast. It was to deploy six of the carrier's 2,300 TEU/650-770 plug, Colour Class newbuildings. The new operation replaced existing ones using conventional reefer ships. Containers were not new to Seatrade, neither were the trades routes served, while the initial four newbuildings operated by Meridian were to be the first of a fleet renewal program to comprise 20 such units by 2020.
Yet, things have clearly not developed as intended. In July, Seatrade merged Meridian with the PAD service of partners CMA CGM and Marfret. Various other changes occurred, and by the end of the year, Seatrade had been relegated to a slot charterer on PAD. As PAD no longer serves Peru, Seatrade has restated a conventional reefer service covering this important perishables loading area.
Three of Seatrade's ships have been chartered out to CMA CGM, the fourth to Gold Star Line and the two units being built have still to be delivered (one may even have been canceled). Further ships have not yet been ordered. However, Seatrade's subsidiary StreamLines has expanded its North Europe-Caribbean full container service now calling ports at the French Antilles, Curaçao/Aruba, Central America East Coast and via U.S. Gulf back to Europe, deploying five reefer-heavy box ships.
Other reefer operators continue their switch from conventional to containers using reefer-heavy ships: Chiquita's Great White Fleet: West Coast South America-U.S. West Coast - two x 2,500 TEU - every 10 days - Guayaquil, Puerto Quetzal, Puerto Chiapas, Hueneme.
Having ordered 500 x High Cubes with controlled atmosphere and monitoring technology fuels the suggestion that AEL (Compagnie Fruitère) is close to making the switch to box ships
At the end of 2017, the conventional orderbook counted 13 reeferships of all sizes with a total deadweight capacity of 126,000 tons, 9,700-dwt average and all for delivery in 2018/19. (Included are four 300,000-cft ships for Seatrade.)
Some conventional reefer ship orders have been placed: the largest to be ever built and 30 percent largest than the current ones afloat: two 22,300-dwt/880,000 cft, 560 TEU vessels ordered by non-operating owner Nissen Kaiun, to be built by Shikoku Dockyard and delivered late 2018/early 2019.
Network Shipping, the in-house carrier of Fresh Delmonte, has ordered two 20,000-dwt/800,000-cft, 600 TEU vessels to be built by Guangzhou Wenchong Shipyard and delivered late 2019/early 2020.
With an average age of nearly 30 years and limited newbuilding activity, the conventional reefer ship fleet is doomed to decline further and steadily. Dynamar expects the fleet to number some 400 ships with a combined reefer capacity of 132 million cubic feet.